Leonard '13 Serious about Tennis, Gaming
by Howard Hewitt • September 21, 2012

Share:
The Wabash College Tennis team has until next February to get ready for the 2013 season. The ITA Central Region Tournament, however, got underway Friday.
Eight Little Giant players are in the national fall tournament which is hosted at Indianapolis this year. Twenty-Eight teams will make the trip and seven NCAC schools will be there including Wabash.
Conference rivals Depauw and Denison are both ranked in the top 30. The highest overall rank of any team will be Washington University (4th in the nation).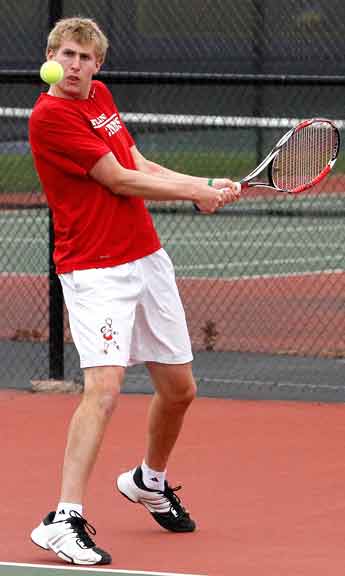 The Little Giant senior is serious about the business of tennis and gaming.
"The most difficult thing in trying to prepare for the tournament is just trying to get our legs under us," Leonard said. "We usually have four weeks to prepare but this year we only have three. However, the tournament has been in St. Louis and Michigan the past couple of years so it's nice that it's just down the road."
Leonard, a Kappa Sigma member, will team with Nate Koelper in doubles play. Leonard said there's more than just lining up the two best players next to each other when playing doubles.
"You have to make sure guys' games work well together," he explained. "For instance, you always want to try and attack but some guys, including myself, are more comfortable sitting back on the baseline. It's important to have a teammate that understands your style of play."
Leonard wants to play with an aggressive mindset in order to pressure the opponent. He has worked to change his style of play.
"I am trying to become more of an attacker," he said. "We work in practice on serving and coming into the net. That forces both guys to play at the point and the big show is at the net."
The "big show" is also off the court for Leonard. He recently began his own business, Phantom Gaming Tables, designing video-arcade tables.
"I'm branching off another business selling arcade style gaming tables," he said. "They can be used as cocktail tables in bars or for business or personal use. I personalize the underlays, typically with designs of favorite college or pro teams. It includes 60 arcade-style games like Pac-Man and Space Invaders."
The game table works with a joystick and three buttons, just like the old arcade games. It has a monitor in the table facing up that has the ability to flip the screen when playing two-player so no one has to get up and walk around. The monitor was originally an LCD screen, but customers wanted a more authentic feel so the designer, Rick Priester, decided to use the 80's technology.
Priester graduated from Georgia Tech University with Leonard's cousin. Leonard was approached over the summer about working with the new company. Leonard's original role of with the company was a middle man to bring in new customers. That role soon changed.
"I still work with Priester in selling the tables but I decided to take it a step further," Leonard said. "He makes the tables but customers often go through me and my own brand. In turn, receive a portion of the proceeds from the sales."
The upstart business has been a grind for Leonard. He has worked all summer and has used Wabash resources.
"I've been working with Career Services to see what I can do to jump start it as far as the entrepreneurship goes," he said. "I've also been working on the company's website and social media. I've always had interest in business, but never really knew where to start."
The English major hopes to introduce his product to Wabash. He also has designs for local businesses I his hometown of Bloomington.
"The gaming table is a great way for people to kill time in places like car dealers and basements," he said. "It also comes with a thick glass piece that's easily detachable so you can be in a bar and have a drink with somebody while playing classic games."
For more information about the tables, visit Phantom Gaming Tables and see Leonard's designs.