Little Giants Finally Home Hosting Gators
by Joceyln Hopkinson '15 • September 21, 2012

Share:
Four weeks into the college football season Little Giant Stadium has yet to be flooded in a sea of scarlet. That will change Saturday when Wabash plays host to Allegheny College. Wabash comes in to the game after last week's 2-0 conference victory at Denison.
Saturday will be Community Day with the Crawfordsville High School Band marching at halftime.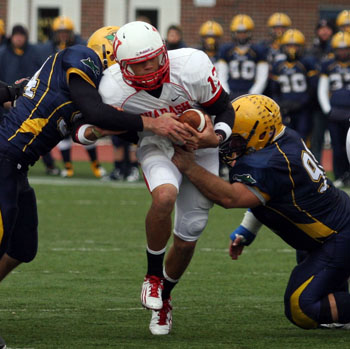 Allegheny is 1-1 after suffering a 30-point thrashing at the hands of Carnegie Mellon – Wabash's homecoming opponent next week. The Gators have had two weeks to chew on the loss due to the bye week.
"We know we will get their best game just like we did last year," Coach Erik Raeburn said. "They are always great on defense and special teams. Offensively, they really try to pound the football, chew up the clock, and shorten the game."
The Little Giants defeated the Gators 22-16 in a late-season battle last year. The win was Wabash's closest regular season game.
Allegheny will look to ground and pound in a battle of strength versus strength. The Gator's physical running game will go against a Little Giant defense that is allowing the second fewest rush yards-per-game in the nation. Down and distance will be an important factor for both team.
"The challenge for our defense is to play well on first and second down," Raeburn said. "Allegheny is hard to stop if it has success on those first two downs. It is also an excellent screen team and has a good three-step-drop game."
Wabash's defense has also excelled at creating turnovers. The team has a plus-6 turnover margin which is the third best in the country.
"We all played together last year and a couple of freshmen have stepped up," senior corner Austin Hodges said. "We're tighter as a unit this year after having so many new pieces last year. Guys were able to build friendships outside of football during the off-season which has translated to better play on the field."
Hodges already has four interceptions in just two games including one he returned for a touchdown at Hanover. He too has taken notice of Allegheny's quick passing game.
"When they [Gators] get in third-and-short, they make good decisions," he said. "The quick out, flood, and smash are easier to throw in third-and-short. It's important we make them have third-and-longs."
With the third-and-longs come the big play opportunities this defense has thrived on so far, but Hodges still sees room for improvement.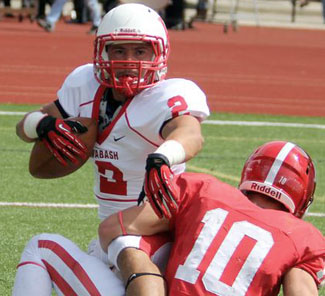 "The turnovers definitely need to continue," he said. "But there needs to be more three-and-outs. We need to get the ball back to our offense so they can have more opportunities to score."
Hodges looks to continue being a menace to opposing quarterbacks. Obviously, four picks is not enough.
"If we can disrupt their timing early on and confuse them a bit, I think I can jump a few routes," he said. "Our defense has been really good at disguising itself so far. Two of my interceptions were in cover two while the others were in cover three."
Allegheny has a veteran defense with six seniors starting. The unit is led by Honorable Mention All-Conference safety Ryan Vietmeier and linebacker Bill Devlin.
The Wabash offense has benefited from the senior leadership of quarterback Chase Belton in the first two games. He accounted for three touchdowns last week while throwing for over 200 yards through. He did so in a liberal fashion, completing the ball to eight different receivers.
The running game was effective last week too. Wabash passed the century mark and provided great balance to the offense. Raeburn called 30 run plays and 30 pass plays at Denison.
The team acknowledges the competition is getting stiffer, starting this week with Allegheny.
"This is our first real test," Hodges said.
The test will begin Saturday with kickoff slated for 1 p.m. Wabash Community Day will be held for the game so admission is free of charge. The game will be broadcasted by Jim Amidon '87 and Steve Hoffman '85 and can be seen at http://wabash.edu/live