Safety Gibson Now Receiver Gibson
by Joceyln Hopkinson '15 • September 7, 2012

Share:
The Wabash College football coaches weren't certain where junior
Andrew Gibson
would play when they recruited him. One could argue they are still unsure.
Gibson will play wide receiver this season after starting at safety last year for the Little Giants. He joins a receiving corps that graduated three starters from last season.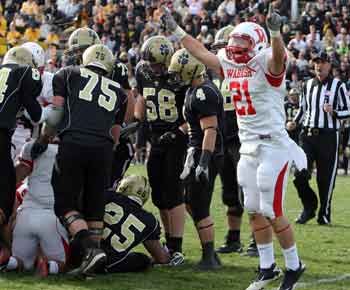 "The coaches came to me about moving back to receiver a few weeks after last season," Gibson said. "I was willing to do it just like I was willing to move to defense. I just want to do whatever the team needs."
Gibson played receiver his freshman year for the Red Squad team before moving to safety in 2011, eventually becoming a starter. He attended Mooresville High School outside of Indianapolis where he started at quarterback and safety his senior year after playing receiver as a junior.
"Coaches weren't sure where they wanted me to play coming out of high school," he said. "I was recruited at multiple positions and just tried to be ready to play wherever they wanted me."
While coaches were trying to figure out where to play Gibson, he was trying to figure out if he wanted to play college football.
"After my senior year, I realized my ultimate life goal was to be a surgeon," Gibson explained. "I wanted to focus on my studies so I made the decision I wasn't going to play football."
Gibson is planning to be a psychology major with a double minor in biology and chemistry. He wants to attend Indiana University Medical School and become an M.D. after he graduates from Wabash.
He wrestled in addition to playing football his senior year and continued to work out in the spring. He kept his options open in case he changed his mind about playing college football — advice he credits his parents for telling him.
"My parents explained to me that I should keep working out since there was the possibility I could decide to play football," Gibson said. "Obviously, wrestling kept me in shape during the winter and then I kept working out during the spring. I didn't make up my mind to play football here until April or May, which is pretty late. I just realized that I wasn't ready to give it up and that I could do well in school and still play football if I focused."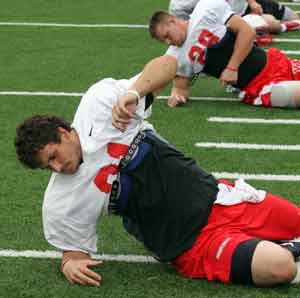 Gibson was certain about coming to Wabash. He attended multiple basketball games to watch family friend, Jesse Burgess '03, play for the Little Giants. Wabash eventually became the only school he visited.
"I just loved the atmosphere at the basketball games," Gibson said. "Watching the Sphinx Club members was really neat. I saw how everyone is so close. As I got older, I appreciated the small class sizes and interactions with the professors here. That's not the case at a lot of other schools."
He will again experience the atmosphere first-hand on Saturday afternoons. He faces different challenges this year lining up on the opposite side of the ball.
"The transition back to offense has had its ups and downs in re-learning the plays but other than that it's been alright," he said. "Re-learning the offense is probably the most difficult part. We do a lot of different stuff as far as routes and signals. Also, there's a lot more running at receiver. It took me a little longer to get in shape for it."
Gibson has taken notice of the benefits from playing safety last year. He can read defenses a lot easier when he sees the safety line up and he has a better understanding of the holes in the defense's scheme.
Gibson is ready for the season to start Saturday. Wabash will take the field for the first time since losing in the quarterfinals to last year's national runner-up Mount Union. Gibson claims the loss has kept guys motivated.
"Our attitude during the off season and camp has been phenomenal," he said. "We had a small taste of the ultimate goal last season and guys want to get back there and beyond."
The first step in accomplishing the ultimate goal starts Saturday with a trip to Hanover.