Designer James Gross Featured in Magazine
by Steve Charles • September 6, 2012

Share: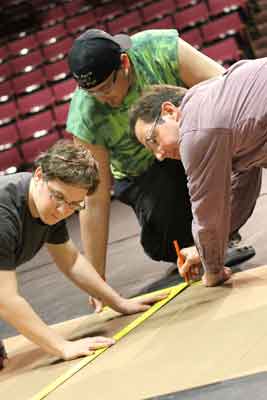 Scenic Designer and Technical Director James Gross and his work with students on last year's Wabash Theater production of Molière's The Miser are featured in a photo essay in the latest issue of Wabash Magazine.
Gross's set was practically another comic actor in last year's rollicking French farce, with bannisters dropping to the floor and mantle pieces falling apart in the actors' hands as the miser's house and plans fell through.
Wabash Communications Specialist and Photographer Kim Johnson spent hours with Gross and students Phillip Robbins '13 and Tyler Swaim '13 as they designed and built the set, her photos providing a behind-the-scenes look at some of the most creative and demanding work done at the College.
Eric Schilling '13, who tragically died in July, was also part of the team that built the set, and several photos in the album capture him at work that he loved with colleagues who loved working with him.
WM Online includes 24 additional photos of that team and Johnson's notes as she documented the building of the set over several weeks.
"I was impressed at the calm guidance James offered and his insistence that the young men do the work," Johnson recalled. "It would no doubt go faster if he just barked orders and they obeyed, but instead they talked through design, shared ideas, and worked as collaborators to get the job done."
Gross is resident designer for Indianapolis's Phoenix Theater and his work there was featured in the Indianapolis Star in 2010. An assistant professor of theater at Wabash, Gross also teaches scenography and stagecraft at the College, and students in the latter class contributed the muslin walls to The Miser set.
"Sometimes when students are writing a critique of the set for class, they'll pick up on something it that I hadn't told them; figured it out themselves," Gross said. "That's very pleasing to hear, because a goal of theater is to give you something of your own to take away—even if that something has to do with the set."
Read more at WM Online, and see Kim Johnson's photos and notes here.