Raeburn Guest on First Friday Live
by Howard Hewitt • September 4, 2012

Share:

Classes are underway at Wabash College. We have 260 freshmen, many returning faces, and lots of excitement for the fall.
The 10th ranked Little Giant football team opens at Hanover Saturday, September 8. But mark your calendar now for the debut of "First Friday Live" at 12:15 p.m., Friday, September 7. Little Giant Coach Erik Raeburn will be live in studio to talk about the upcoming season and take your questions during the interactive webcast.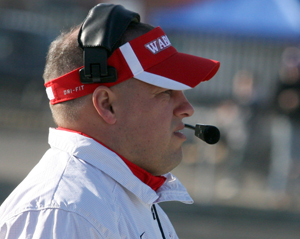 First Friday Live is the evolution of last year's successful Wabash Wednesday program, which featured administrators and faculty talking about issues important to Wabash and live interaction with webcast viewers.
First Friday Live and will feature administrators, coaches, and faculty members, but also more students sharing their Wabash College experiences.
The program is designed to bring the latest news and events to alumni and friends of the College no matter where they live. And the program is interactive. You can email a question to our announced guest or use Facebook or Twitter to ask a question.
If you miss a live broadcast you can enjoy the program later on the Wabash College YouTube Channel.
"First Friday Live" will air at 12:15 – 1 p.m. and you can watch here.
Have a question for Coach Raeburn? There are a number of ways for you to participate.
To join the conversation using social media, send an email to Brent Harris
Chat on Facebook or choose to Tweet your questions