Wabash Claims 50th Hokum Karem Title
by Jim Amidon • September 1, 2012

Share:
The 17th-ranked Wabash College cross country captured the men's team title at the 50th Annual Wabash Hokum Karem by taking four of the top-eight spots in the final standings.
Wabash originated the Hokum Karem-style cross country race, which features pairs of runners alternating one-mile loops through the Wabash campus for a total of six miles. And for the first time in the race's history, soaking rain — the remnants of Hurricane Isaac — saturated the course.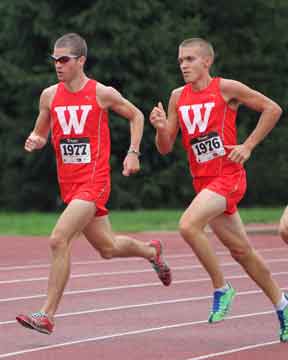 The University of Indianapolis tandem of Alex Cushman and Ben McMillan took first in 28:17, just 10 seconds off the Hokum Karem record time of 28:07 set in 2003. However, Wabash took the next two positions and also claimed sixth and eighth place.
The top three pairs of runners figure in the overall team scoring. The Little Giants finished with 11 points to take the team title, just ahead of Indianapolis, which took second with 14 points. DePauw, Aurora, and Huntington rounded out the top five in the eight-team competition.
Pacing the Little Giants were senior Jake Waterman and sophomore Shane Hoerbert, who finished second in 28:22. Sophomores Billy McManus and Nick Boyce combined to finish third in 28:35.
"I'm happy that we won the team title today, but I'm also a little disappointed in how we finished," said seventh-year coach Roger Busch. "We're very young and we will continue to work on finishing races. I think we could have done a better job running with the lead and finishing to our potential."
Wabash showed off its depth with pairs taking sixth and eighth. Daniel Hoover and Ryan Horner were sixth in 29:42, while Sean Lewis and Cole Hruskovich took eighth in 29:49. Jacob Caddick and Dalton Boyer finished in 11th place.
"I'm pleased with our team depth — putting so many pairs in the top-20 of a big race like this," Busch said. "Now I'll be looking for some of those guys to work a little harder and challenge to be part of our top seven when we run at Intercollegiates in two weeks. Having depth is great, but we need those guys to step up and compete for the top spots in our lineup."
Wabash will have next weekend off before competing at the Indiana Intercollegiate championship, which will be hosted by Rose-Hulman Institute of Technology.
More News
---
---
Photo Galleries

50th Annual Wabash Hokum Karem