XC Team Stretches Legs in Finch Memorial
by Jim Amidon • August 25, 2012

Share:
Wabash Cross Country Coach Roger Busch has graduated All-Americans in each of the last two seasons and posted top-20 finishes both years. Yet coming into the 2012 season, his Little Giants are again ranked second in the region and in the top-20 in the pre-season national rankings.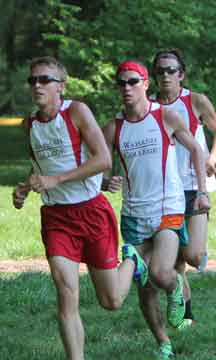 If the team is going to continue its good fortune in the conference, regional, and national meets this year, it will be Busch's stable of sophomore harriers who will come through.
"This sophomore class is deep and talented," Busch said. "Many of them put in 70, 80, even 90 miles-per-week this summer, so I'm excited to see how they'll perform when our season gets underway next week."
Wabash will host the Hokum Karem next week and Busch expects up to eight men's and women's teams to compete in the six-mile, two-runner relay event.
But as he has in each of his six seasons at the helm of Wabash's cross country and distance running programs, Busch has his sites set on preparing his runners for the late-season conference, regional, and national meets.
"We have the potential to be really, really good if all of our guys fire in the same meet," Coach Busch said. "But we are young, so we also have the potential to stumble or not have everyone running well at the same time."
The 2011 NCAC Coach of the Year got a chance to see his men compete for the first time Saturday when Wabash hosted the Charlie Finch Memorial Alumni Race, a friendly four-mile race against the College's distance running alumni, including 2012 Indoor 1500 National Champ Kevin McCarthy.
But it was Busch's sophomores who looked strong from start to finish. Shane Hoerbert, Bill McManus, Nick Boyce, Dan Hoover, and Ryan Horner took the top-five places and all finished in under 21:24 on a hot August morning. Hoerbert broke away from McManus and Boyce to finish in 20:59 to claim the top individual honor, while McManus and Boyce came to the line in 21:13 and 21:21, respectively.
Juniors Jake Ponton and Dalton Boyer finished sixth and eighth, respectively. Boyer had to break his summer training routine when he traveled to Peru to study infectious diseases with Biology Professor Eric Wetzel, but Busch expects him to return to form quickly.
"These guys are all competitors and because they are so young — and none of them have secured spots in our top-seven — they should continue to push each other all year."
Senior Jake Waterman finished ninth in under 22 minutes. The defending Outdoor National Champion in the 800 meters will provide veteran leadership to the team.
"Jake is just a terrific worker and competitor, and while cross country isn't his best event, he's out there pushing the guys, leading them, and teaching them how to compete at the highest level."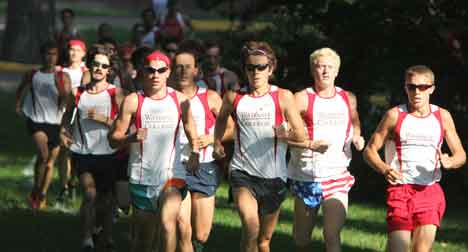 More News
---
---
Photo Galleries

2012 Finch Memorial Cross Country Race