Students Leaders get HELP to Start Year
by Howard Hewitt • August 17, 2012

Share:
Nearly 100 Wabash students returned early to campus to strengthen their role as leaders in Wabash College living units.
Fraternity leaders and independent student R.A. leaders took part in the annual Wabash Housing and Education Leaders Partnership (HELP). The Noon – 6 p.m. program focused on issues of safety, health, substance abuse, finance, and all aspects of living on campus.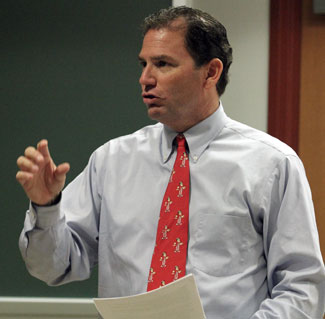 The session was kicked off with a welcome back from Dean of Students Mike Raters and keynote comments from President Patrick White.
"Today you will prepare to lead the men of the Class of 2016," the President told the upperclassmen. "You will teach them what it means to be a Wabash man; how to be a Wabash man. Every Wabash man is a coach, teacher, and mentor of other Wabash men.
"Don't underestimate your power ... when you put on the hat of a leader, it may feel like it doesn't quite fit. But it does fit, gentlemen. The young men you meet Saturday will look to you as a leader and mentor."
The day kicked off with meetings on fraternity rush, philanthropy, finance, mentoring, managing fraternity housing, social activities, intramural sports, and alumni relations. Campus Security Director Rich Woods led a session with Crawfordsville Police Lt. Hal Utterback and Fire Inspector Mark Evans on safety and prevention.
Student wellness was another big topic with sessions on wellness, mental health, and Indiana's new laws on smoke-free air and lifeline.
The new smoking law, restricting smoking at least 8 feet from any campus building entrance, brought considerable discussion about where students, staff, faculty, and alumni can smoke. Raters urged a common sense approach that "it's your responsibility to deal with it. It's against the law. If people are doing things they shouldn't be doing then man up and face it. Deal with it."
The Lifeline law has gotten plenty of press and thorough discussion during Thursday's session. Simply anyone seeking medical help for someone who is intoxicated cannot be prosecuted if they too are under the influence.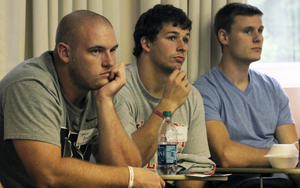 "This law helps to empower you not to hesitate," Raters said. "Do the right thing."
He expressed fear of "too many instances in the past" where students might have been drinking and feared calling for help because they too were consuming alcohol.
Wabash alums Dr. John Roberts and Scott Douglas conducted a 45-minute session on substance abuse, signs, and appropriate response.
Late afternoon sessions included discussions on hosting prospective students, travel abroad, academic assistance, and alumni relations. Campus resources like athletic facilities, career services, counseling, MXI, and the Deans' offices were reviewed.
The last session of the day was individual living unit meetings held with advisors, campus faculty, alumni, and staff.