Evansville Golf - High Temps and Low Scores
by Tom Runge • August 10, 2012

Share: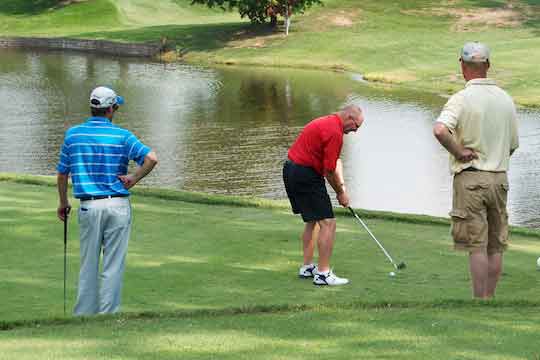 The Evansville Association of Wabash Men hosted their annual golf outing in Newburgh, Indiana at Rolling Hills Country Club. The temperatures were in the mid-90s but it didn't hurt the scoring – all foursomes were below par save one.
The winning team – Todd Glass '84, Rick Moll '77, John Reitz '88 and Lu Hamilton '76 – had birdies on 50% of the holes they played. Longest drive went to Conor O'Daniel '93 and Roger Butler made the longest putt, father of Nathan Butler '02.
Sons of Wabash member Andy Walsh '14 and sophomore Aeknoor Cheema '15 played in the outing. Golf coach Mac Petty will want to talk with both of them!!!
Lu Hamilton '76, major gift officer at the College, presented the awards and provided the group with an update on the College after dinner.
Photo: Roger Butler, father of Nathan Butler '02, hits the drive over the lake
for more photos, click here.