Pysch Interns Study Influence Learning
by Scott Morrison '14 • July 19, 2012

Share:
Summer in Crawfordsville has already come to an end for many students who performed research with Wabash professors. However, there are a few more students left in the predominantly empty Hays or Baxter Halls. Interns Romaric Amoa '13, Jacob Owens '14, and Joshua Stowers '14 are still working hard in Baxter Hall studying learning habits.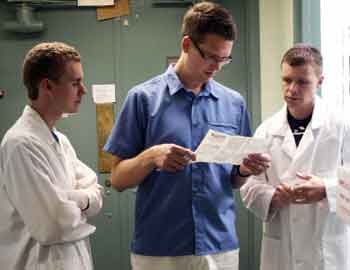 The three students have spent the past seven weeks with Associate Professor of Psychology Dr. Neil Schmitzer-Torbert working with cocaine and rats. The four have been performing arguably some of the most unique research here this summer.
The students are looking at how addictive drugs, such as cocaine, influence learning. "We have seen previously that giving cocaine immediately after an animal, such as a rat, has learned a new behavior (such as pressing a lever for food) can cause the rat to develop a rigid, automatic behavior (and the rat will continue to press the lever, even if it does not want the food anymore)," Dr. Schmitzer-Torbert said. "This summer, we are looking to identify where in the brain cocaine is acting."
Dr. Schmitzer-Torbert studied habit learning in graduate school; so like many professors, he has remained interested in the work. Yet, most professors do not have the ability to work with the college's last remaining animal colony like he does. In the Baxter Hall basement there is a group of rats, called a colony, living for the purpose of research. Wabash professors and students have studied animals for decades, from mice to rats to even slightly larger animals. Today, rats have survived the test of time as the best animals to study, especially for the ends that Dr. Schmitzer-Torbert and his students are trying to obtain.
Amoa, Owens, and Stowers have been injecting cocaine directly into two areas of the rats' brains, the prefrontal cortex and the basil ganglia, to see if cocaine can act directly in these areas to stimulate learning habits. While there are some tough aspects to the research, the students are glad they took the opportunity. "I took a couple of classes with Dr. Schmitzer-Torbert, and when I heard he took on interns I went for the opportunity to see if this would be a career I wanted to pursue," Owens said. "I have enjoyed doing research here this summer."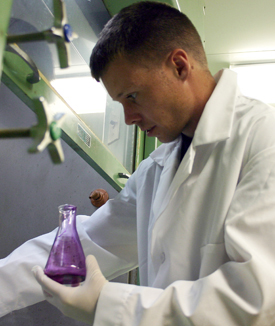 Once the guys leave campus in the next week or so, they will not be completely done with the research. The group will travel to New Orleans over Fall Break to present their findings at Neuroscience 2012, the national convention for the Society for Neuroscience. Over 30,000 people will attend the professional convention. The students are excited to gain experience in presenting their work and to also look into the professional psychological field.
"Right now I am teetering between being a professor and doing research and doing something in the industry," Stowers said. "It is nice that we are going to New Orleans for the conference so that we can learn more about careers."
In a week or so, the interns will start enjoying the last few weeks of summer before classes begin, and they will take with them some precious lab experience not many students get. Dr. Schmitzer-Torbert realizes the value of the work and would love for more students to have the opportunity. "We always have more guys interested in research than we have money for," Dr. Schmitzer-Torbert said.