Wabash Annual Fund Tops Previous Record
by Howard Hewitt • July 16, 2012

Share:
Wabash alums, friends, and supporters gave generously to the College in the just-completed fiscal year establishing a new fund-raising standard.
Giving topped $3,175,000 from more than 4,300 donors in the recently completed giving year. That's nearly $51,000 above the previous single-year record of 2009.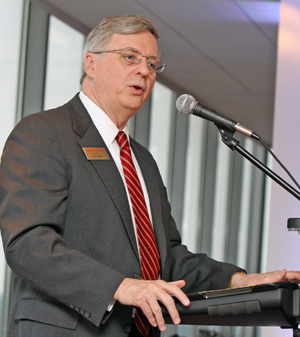 "The Annual Fund is the life blood of the College, providing the unrestricted support to make so many good things happen for Wabash men," President Patrick White said. "This year's record Annual Fund is testimony to the commitment that alumni, families, faculty and staff, and other friends of the College feel for Wabash.
"I join with everyone at Wabash in thanking those who contributed this year and in congratulating Joe Klen, Director of the Annual Fund, Tom Runge, interim Dean for Advancement, and Alison Kothe, Director of Development, and all in Advancement who worked so hard to bring this success home. "
The annual campaign detail breaks down the successful result. Of the top 10 classes in terms of participation, nine of the top 10 had 50 percent or more participation. Young alumni are continuing the long tradition of supporting their alma mater. The Classes of 2003 and 2007 are the only young alumni classes dating back to 1991 with more than 70 donors.
The classes of 2002-2009 all had participation increases.
"I am overwhelmed at the generosity of alumni and friends of the College in helping set a new record for dollars contributed to the Annual Fund," Director of Annual Giving Joe Klen said. "The increase in unrestricted dollars directly impacts those students and faculty who live and learn together on the Wabash campus every day.

"This year the College demonstrated how gifts to the Annual Fund support the relationships that are at the heart of a Wabash education — relationships between students, with professors and coaches, and the relationships that make the Wabash alumni network second to none. When alumni and friends support the Annual Fund, they are investing the relationships that are at the core of the College's mission to educate men to think critically, act responsibly, lead effectively, and live humanely. "
The effort to surpass 3 million annually and grow the fund toward 4 million is aided by tremendous alumni support.
"I greatly appreciate the role of alumni leaders who helped reach out to fellow alumni to support the College," President White said. "Class agents, reunion gift chairs, NAWM leaders including President Greg Castanias and Kip Chase, who participated in an important June appeal, and many other individuals modeled in their own giving and in their messages to their friends the importance of giving to Wabash. This commitment and these efforts play a huge role in this success. "
Visit the online honor roll of donors to see a list of alumni, parents, and friends who made gifts to the College during the 2011-2012 fiscal year.