Alums Help Students Learn About Business
by Howard Hewitt • July 11, 2012

Share:
Learning how the real business world works is a big part of the annual summer program for high school students, Opportunities to Learn About Business (OLAB). Wabash-educated lawyers and businessmen return to campus for one of the group exercises brings a big dose of humor and reality.
The program, free to participants thanks to sponsorship, brings students from all across Indiana and the nation. More than a third of this year's 60 students are from out of state.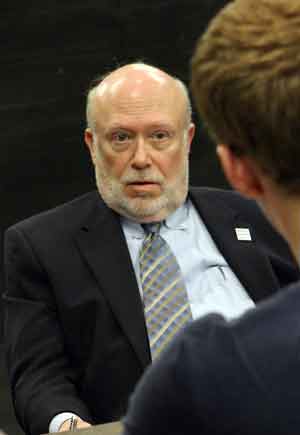 The students learn presentation skills, marketing, finance, economics, and much more during the week. During the course of the week the students must come up with a new mobile device product to manufacture, market, and deliver to retail.
At midweek they must negotiate a labor contract for their manufacturing plants. That's where the Wabash alums participate.
"It's a lot of fun to interact with students who apparently haven't seen a lot of the real world," first-time volunteer Aaron Cook '06 said. "They have to wonder about some of the things we say. We can cite productivity numbers and things we've seen and then we get to see these wide-eyed expressions. But they've been pretty innovative in responding to things so I think it's been a learning experience for me and a whole lot of fun."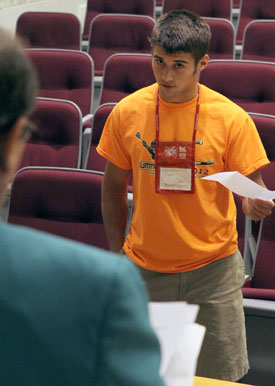 The exercise was changed up a bit this year to add consistency to the exercise. Students heard the real-life lawyers, representing union workers, make their demands in front of the group. The students then caucused and had to have one presenter respond. After that give-and-take, the union legal counselors met with each team to iron out details.
The Wabash alums are tough on the students and push them. But the exercises aren't without fun. One alumni pairing, which shall go unnamed, pressed for an employee swimming pool. The students, or management, weren't going to have any of that nonsense and said employees could use the pond behind the plant. The lawyers came back later to demand a jet ski.
But the exercise is real and taken seriously. The students learn that demands can be outrageous at times even in the real world. And the importance of compromise and negotiation is the only way to keep labor and management happy to build a better widget.
Gregg Estell '85 jokingly said he returns each summer to 'torture the youth,' but said in a more serious tone that OLAB is a great program worthy of participation.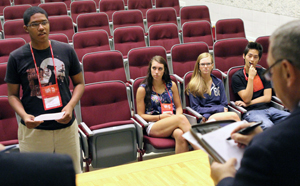 "It's just a real opportunity to introduce young students to real life business practices," Estell said. It's really fun to give them feedback on their presentation skills and their negotiation skills. Once we're done with the role playing, providing that honest, direct, feedback that helps them hone their skills is just a lot of fun. And the students typically are very impressive in what they do."
The Wabash men giving up a good portion of their day to play the role of union negotiators included Estell, Cook, Eric Cavanaugh '76, Scott Benedict '98, Jon Pactor '71, Brad Johnson '71, Tim Craft '00, and Dan Witte '92.
Next the students will work on their marketing plan and devise a budget to bring their product to consumers. They must also create a television commercial, which is usually great fun for the participants, as part of their final project.
Graduation ceremonies and awards take place at 2 p.m., Saturday, in the Fine Arts Center.
More News
---
---
Related
---
Photo Galleries

2012 OLAB - Labor Negotiations