Frank & Rudy Off for Road Trip 2012
• July 6, 2012

Share:
Frank and Rudy are hitting the road for a summer road trip and they may be coming to your town. Students Frank Ruvoli '13 and Rudy Altergott '13 will be seven stops over the next week to meet alumni in St. Louis to Cincinnati with stops in between.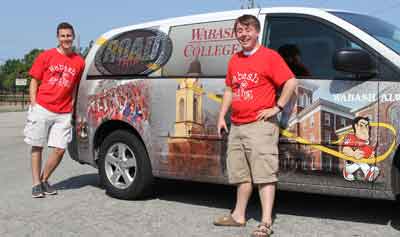 "The goal is to provide low or no cost alumni events (social and casual in nature) to engage and reengage alumni in key areas around the Midwest," said Associate Director of Alumni Relations Mike Warren. "In 2011 we focused on cities primarily in Indiana and in 2012 we will be extending the trip into areas outside the state. We are trying to reach our younger alumni with these events, but include all alumni, current students, parents, and friends."
The two students representing Wabash this summer are excited to get rolling.
"I think meeting with the alumni is great," said Ruvoli, a native of northwest Indiana. "It's the whole thing about Wabash that our alums are so close to the College. And it's a great chance for Rudy and me to meet alumni who live a little farther away. Not all alumni get the chance to come to campus very often so it's great for the alumni and for us."
Altergott said the experience is typical Wabash. "Where else but Wabash would you ride around in a van like the one we have and to be trusted by the College to drive around the country meeting alums? Isn't that Wabash?"
Follow the guys on the adventures or up and down the midwestern interstate highways on the Wabash College Facebook page and on a special Twitter account they've created.

Sunday, July 8, 2012
6:00 PM
Dressel's Public House
419 N. Euclid Avenue
St. Louis, MO
314-361-1060

Monday, July 9, 2012
6:00 PM
Minsky's Pizza
427 Main Street
Kansas City, MO 64105
816-421-1122

Tuesday, July 10, 2012
6:00 PM
Brasky's Bar & Grill
9901 N Knoxville Avenue
Peoria, IL 61615
309-240-8422

Wednesday, July 11, 2012
6:00 PM
Fulton's On The River
315 N. LaSalle Street
Chicago, IL 60654
312-822-0100

Thursday, July 12, 2012
6:00 PM
Ballydoyle Irish Pub
5157 Main Street
Downers Grove, IL 60515
630-969-0600
www.ballydoylepub.com

Friday, July 13, 2012
6:00 PM
Duggan's Irish Pub
31501 Woodward Ave.
Royal Oak, MI 48073
248-549-3659

Saturday, July 14, 2012
1:30 PM
Holy Grail - Banks
161 Joe Nuxhall Way
Cincinnati, OH 45202
513-621-2222