Students Cap Immersion with Business Ideas
by Howard Hewitt • July 5, 2012

Share:
Turning hog waste to a valuable fertilizer service was the best idea among four final presentations made by students July 5 in the Summer Business Immersion Program.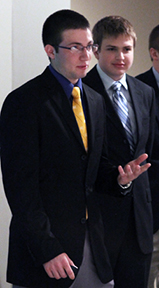 The eight-week program came to a close with presentations that incorporated all of the skills they 16 students had learned about the business world. Each year the presentations cap the summer session with alumni and business executives judging the work.
The summer program is led by Wabash alum Roland Morin '91. The students hear from a number of successful Wabash alums, review business case studies, and make road trips to study businesses.
The winning team was Natural Fertilizer Solutions, a proposed company that would buy hog waste from Carroll County farmers and resell their services of spreading the waste in the fall as a fertilizer. "The judges thought that the plan was innovative, well researched, well thought out and overall the most viable business plan presented," Morin said.
The program pays the students a stipend for participating in the eight week class since most Wabash students work summer jobs or internships.
The winning team were four freshmen: Will McLachlan '15, Will Folsom '15,Ben Niksch '15, and Patrick Jones '15.
The judges were Michael Haugh '85, Corporate Strategist for Eli Lilly, Jenny Vance, President at LeadJen and a DePauw graduate, and Dave Bowen '99, CEO/Founder for MarketMaker4.
Haugh is a supporter of the program and participated as a judge for the first time. He comments on the program in the video below.
Video Platform Video Management Video Solutions Video Player
More News
---
---
Photo Galleries

Summer Business Immersion Presentations '12