Sipe '78 Drawn Back to Wabash College
by Scott Morrison '14 • July 3, 2012

Share:
For many Wabash men, something about Wabash College keeps them coming back throughout their lives. For Dr. Timothy Sipe '78, a college-owned 180-acre section of woods on Sugar Creek named Allee Memorial Forest has called him back to the College for decades.

Dr. Sipe has returned to Wabash for the second straight summer to conduct research in the Allee Forest. Franklin and Marshall College junior Robert Yamulla and Wabash sophomore Jackson Schroeder are interning alongside Dr. Sipe this summer. The team has been gridding, mapping, measuring, and coring trees in order to learn more about growth rate and the changing dynamic of the trees. They are also quantifying tree sapling populations and measuring light patterns among other goals and projects.
Dr. Sipe has come back every decade since his graduation to study the trees in the woods that introduced him to the type of work he has pursued the rest of his career. Dr. Sipe, who is now a Associate Professor of Biology at Franklin and Marshall College in Lancaster, Pennsylvania, was the first person in his family to attend college and believes Wabash had a tremendous impact on his life.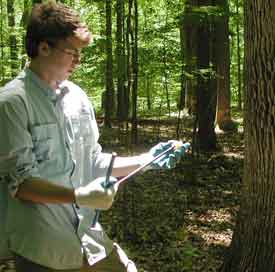 "For me, going to any college would have been a transforming experience, but the luck of going to Wabash and being transformed by the liberal arts education really shaped my world view," Sipe said.
Sipe was interested in the sciences, but did not really get his best experience until between his junior and senior years. That summer was when his advisor, Dr. Robert O. Petty, invited him to do his first research in Allee Forest. Dr. Sipe was contemplating studying forestry, but because of the advice of Dr. Petty, decided to pursue ecology instead. "Having learned from Dr. Petty and other faculty here and having the ability to do one-on-one research with faculty really helped me going on to graduate school," Dr. Sipe said.
Sipe then earned his master's in ecology at the University of Tennessee. He found himself back in Crawfordsville in the spring of 1982 serving as a visiting professor in the biology department. He realized that spring that teaching was something he enjoyed, and afterwards he pursued his doctoral which he received from Harvard in 1990.
Since then, he has spent time researching in Minnesota, Massachusetts, and has taught at Franklin and Marshall since 1997. Looking back, Franklin and Marshall has been a great fit. "Like Wabash, F&M is a highly regarded liberal arts college with a strong commitment to excellence in both teaching and research," Sipe said.
Despite having found a great place to live and work at Franklin and Marshall, Allee Forest has always held a special place in Dr. Sipe's heart. "I have always wanted to come back and do a little more research here," he said. "I wanted to come back to see how the forests have changed over the past 50 years. I view it as a way of giving back to the College by opening up research opportunities for the Biology Department and students here."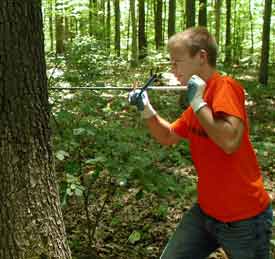 So far, Yamulla (at left) and Schroeder (above right) have enjoyed the opportunity. Both appreciate the ability to do research and have found the opportunities to work and research outside of a lab very beneficial. "It has been a great experience," Yamulla said. "The coolest part of this is the ability to have independence as an undergrad to make decisions and go out and do research in the field. It's not like being in a traditional lab setting; in this case we are writing the manual. It has been cool to get out of the controlled environment of the biology lab, and that is what attracted me to this opportunity."
Schroeder, a rising sophomore, has been soaking up the opportunity to do such extensive research. He has seen this summer as a time to learn more about research and see a field which he may want to pursue after Wabash. "It is really nice having the real life science experience," Schroeder said. "It has been nice seeing Dr. Sipe's and Robert's different points of view and the stuff they have learned."
The three have enjoyed the experience of working together, and it has been especially interesting for Yamulla to see the unique qualities of Wabash. He was surprised by the unmatched excitement Wabash students have for the College. "There is almost a different culture here at Wabash," Yamulla said. "There is an extraordinary pride here in the community about Wabash, and it seems like everyone shares in it. It is like Wabash is one big fraternity that everyone comes together under."
Schroeder will finish his work with the project around July 19, and Yamulla and Dr. Sipe will return to Pennsylvania and continue their research in the lab there. Yamulla will be working on this project under the supervision of Dr. Sipe for the next year.