IBM's Shook '83 Shares Insights to Success
by Howard Hewitt • June 14, 2012

Share:
One of the great experiences of attending Wabash College is the exposure to many of the College's successful alums. The Summer Business Immersion Program brings graduates back to campus to share insight. Rob Shook '83 spoke Thursday about his extensive IBM business career.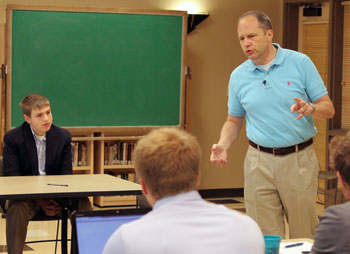 Shook left Wabash as a Lambda Chi Psychology major and has risen through his 25-year career at IBM to the title of Chief Strategist/Industry Solutions.
Shook outlined his path starting with an internship in Texas, to work in New York, back to IBM labs in Texas, NBC in New York, Florida for management training, a three-year stint in London, three years in Australia, and eventually rising to his current position.
But Shook also spoke passionately about the liberal arts, the need for great communication skills to be successful, and how he has been open about his sexuality at IBM and the importance of authenticity.
"It gave me visibility by being open about who I am," he said. "If people know I'm going to be open about that then they know I'm going to be honest about everything."
Shook has become a leader and groundbreaker at IBM as an openly gay man. He has helped formulate new policies for IBM for its gay, lesbian, and transgender employees. He's also helped company leaders market to the gay community.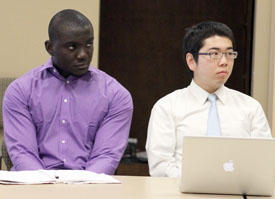 He believes his success started with his education. "My liberal arts education has probably had the biggest impact on my career," Shook said. "I had experience here working with faculty members and doing research. My Wabash education has been the biggest contributor to success in my career."
During several points in the hour-and-a-half session with the 16 Wabash students he stressed communication skills and public speaking. He urged the young men to volunteer for every opportunity to speak before a group.
"The advantage of speaking public is a skill set that will put you head and shoulders above many in the workplace," he stressed. "And coming out of college you are in the most academic learning-rich environment that you'll find in your lives. Learn for the sake of learning."
See Shook's entire lecture in the video below.