Eight Little Giants at Track Nationals
by Brent Harris • May 23, 2012

Share:
With a record number eight athletes set to compete this week at the 2012 NCAA Division III Outdoor Track and Field Championships, the Wabash College team will be provided its best opportunity to earn multiple All-America honors.
Head Coach Clyde Morgan and Assistant Coach Roger Busch traveled to California on Monday with Kevin McCarthy, Jake Waterman, Daniel Ambrosio, Evan Groninger, Ronnie Posthauer, John Haley, Cole Hruskovich, Joel Whittington, and Sean Hildebrand.
McCarthy will start the competition for the Little Giants, racing in the 1500-meter run preliminaries on Thursday at 4:45 p.m. Haley, Whittington, Waterman, and Hruskovich will compete in the 4x400-meter relay that same day at 9:15 p.m. (All times are Pacific Time.)
Posthauer's event, the 110-meter hurdles, will run preliminary rounds on Friday at 5:25 p.m. Waterman will race in the 800-meter run at 7:25 p.m.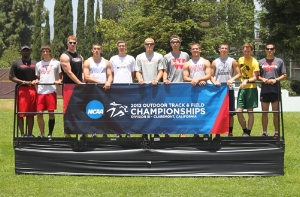 Saturday Ambrosio and Groninger kick off the day with the javelin throw at 12:40 p.m. with athletes reaching the finals racing throughout the afternoon. All times listed are Pacific Daylight Savings Time. The national championship meet will be hosted by Claremont-Mudd-Scripps Colleges in Claremont. Live video of the meet is available
here
and live results can be tracked
here
.
McCarthy (below left) is coming off a national championship performance in the indoor mile in March. He qualified for both the 1500 and the 3,000-meter steeplechase.
However, due to the format of the meet and the difficulties involved in competing in both events, McCarthy will only run the 1500. The senior NCAA Postgraduate Scholarship recipient believes his victory in the mile in March can provide some extra confidence as he competes for the final time as a collegiate athlete.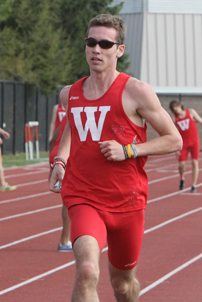 "Coming off the national title doesn't change my approach for the outdoor championship," McCarthy said. "Really the only thing I take away from it is the fact I know what I need to do to try and win the 1500-meter race. I know that first to third place is often really a tight race. I'm going in expecting to compete for that top spot."
Waterman (below right) has finished second in the indoor 800-meter dash in back-to-back seasons along with a sixth place at last year's outdoor championship and a seventh-place finish in 2010. He enters this race with the fastest time among the 20 competitors, turning in a time of 1:48.64 at Indiana University in April. The four-time All-American, who will also run as a member of the relay team, has his mind set on crossing the finish line first at this year's meet.
"This is the first time I've ever been ranked first heading into nationals," Waterman said. "I think that adds a little more pressure. There are definitely some high expectations being a junior now and having finished second twice and being so close to winning both times. I really think if I don't win this time it will be kind of disappointing."
Ambrosio and Groninger each set school records this year in the javelin on their way to finishing 11th and eighth, respectively, in the regular season national rankings. Ambrosio's top throw came in the first meet of the season --- the J. Owen Huntsman Relays held in March at Wabash. Groninger also produced a good result at that meet, but his 62.90 meter mark at the North Coast Athletic Conference Championship Meet moved him into the top-ten in the nation and set the new school mark. The two will now compete together as part of the field of 20 athletes hoping to earn All-America honors.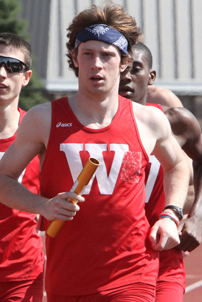 "Dan and I have been building up this trip to California all season, Groninger said." I think we have an excellent opportunity to show everyone what Wabash track and field is all about, and represent the College the way it should be represented. I'm looking forward to cheering for the other guys in their events as much as I am in competing in the javelin. That's the type of team we have. We enjoy each other's successes."
For Ambrosio, the success has come very quickly. Coming to Wabash as a quarterback on the football, he moved to track and field as a junior without ever competing in the javelin. He worked with Coach Morgan initial and discovered the same strengths and abilities that served him so well in football translated to the javelin throw.
"A lot of my friends on campus kept trying to convince me to come out and throw the javelin after I made the decision to not play football anymore," Ambrosio said. "So I came out and gave it a try and found I had some initial success. After my last throw of my junior year, I realized the ability to make it to nationals was there. Now I just want to place in the top eight and earn All-America honors since this is my only chance to compete at this level."
Posthauer was the last Little Giant to earn a berth in the national field. His time of 14.64 in the 110-meter hurdles came in the final qualifying meet of the season less than a week ago. One of two freshmen competing for Wabash at the meet, Posthauer is excited for the opportunity he has worked so hard reach.
"I really don't have any particular expectations in terms of where I finish, I just want to finish my season with a couple of good races," Posthauer said. "This whole experience is really exciting. Qualifying on the final day of the season meant I really haven't had much of a chance to think too much about the meet. It really feels like a dream that I'm even here."
Haley and Hruskovich are the veterans for the Wabash in the relay. Haley competed at nationals on a relay team as a freshman when the Little Giants sent six athletes to the championship meet. Hruskovich ran as part of the Wabash distance medley relay in March at indoor nationals. Wabash's time of 3:12.55 is third-fastest in the field of 16 teams, giving the squad hope for a good finish in both the prelims and finals.
"This is a great opportunity, especially with the time we have right now," Haley said. "We're sitting third among all the teams entered into the meet, so I think we have the opportunity to do something big during this trip. My freshman year we traveled six athletes. Last year we only sent three to outdoor and two to indoor nationals. We had a good group at this year's indoor nationals and now we've added more to this group. I'm excited. I think we have an excellent chance to win the race. We have a quality group of four guys that can really go out, work hard, and find a way to succeed."
"The indoor meet has provided more confidence," Hruskovich added. "I was a little nervous competing at the indoor nationals, but now I know what to expect and I think I'll be confident heading into the race this week. It will be exciting to have all of our teammates there to cheer us on. Our first focus has to be getting to the finals. If we make certain that we earn a place in Saturday's race, anything can happen from there."
Whittington races for the first time at the nationals, but he served as an alternate on the distance medley relay team and observed the meet from the stands. He believes that experience can provide a boost heading into the weekend.
"Going to the indoor meet not only helped me by watching our guys race, it also allowed me to watch some of the same guys I'll be competing against this weekend," Whittington said." Some of those same 4x400 teams will be competing here in California at the outdoor meet. I really think I'll have a feel for the meet, for the overall atmosphere. I'm excited to have one more opportunity to run this year. I want to go and just keep doing what we've been doing."
Hildebrand will serve as an alternate for the relay team at this year's meet. Despite the fact he may not get the opportunity to race, the sophomore is ready to do whatever is needed to help the team succeed.
"I was so excited to learn I was going to be able to make this trip. I know my name probably will not be called, but I'm still here to try and help get the rest of the guys on the relay team and make sure I'm ready in case something happens. I'm just excited to be able to experience this. Being able to watch this all take place fuels me to try and earn a spot myself. Even so, I'm excited for these guys and thrilled to be here to be able to watch them compete."
With so many athletes competing for the Wabash, the Little Giants could post one of their highest finishes in the team competition in school history. Wabash enters the meet ranked eighth in the latest U.S. Track and Field and Cross Country Coaches Association computer listings. However, Morgan knows where the real focus lies.
"We don't' have a team goal," Morgan said. "We'll take every event one at time and at the end of the night on Saturday we'll see what happens.
"We're going to do what we also do --- treat this as another meet. I believe you have to keep the guys as loose as possible. Really it's bigger than just nine guys who are here. We've been preaching this for years and now this has become an expectation. Our guys have a belief that they deserve to be here. It's lonely if you have only one guy who has qualified. I think having a group this size helps everyone relax."
Even though the Little Giants won't place their focus on trying to earn a team finish in the top five overall, Busch believes the continued success of the program can put the Little Giants in place to reach that goal.
"It's extremely exciting to see the depth our team presents at nationals this year," Busch said. "Coach Morgan and I were even more excited when we were processing the meet entries Saturday and realized we have only two seniors competing. That speaks well for the future success of Wabash track and field. Our long term goal is to bring home an NCAA trophy. Whether that happens this year, next year, or ten years from now, it's always something that's in front of us."