Degitz '42: An Unsung Hero Dies at 91
by Jim Amidon • May 10, 2012

Share:
As Wabash prepares for its 174th Commencement Ceremony, the College mourns the passing of one of the great behind-the-scenes heroes in the life of the institution. William Bates "Bill" Degitz, Wabash Class of 1942, died Wednesday in Crawfordsville at the age of 91 after a battle with cancer.
Degitz earned a master's degree from Harvard University and worked at the accounting firm of Ernst & Ernst and Haywood Publishing, before returning to his alma mater to join the staff in the Business Office in 1955.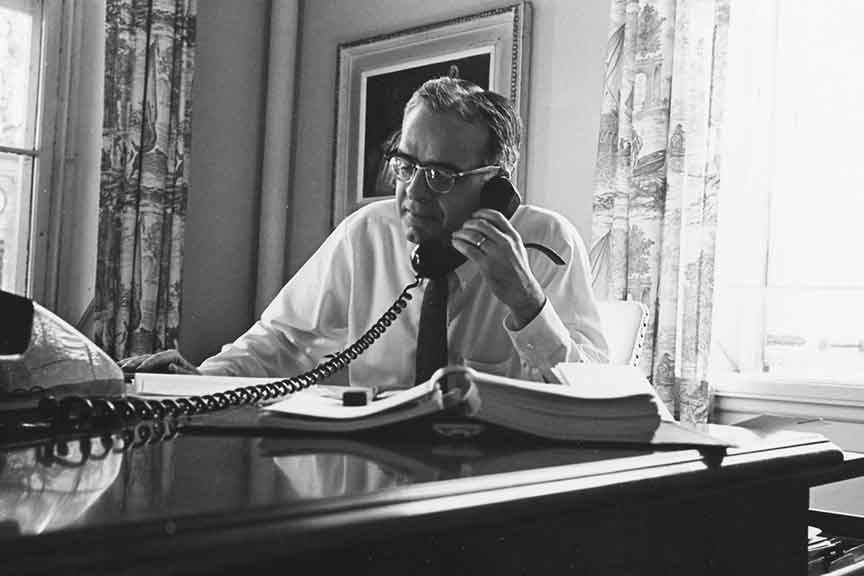 Originally appointed Assistant Comptroller under Ferguson Ormes, Degitz was promoted quickly to Business Office Manager, a position he held until his retirement in 1983. He helped manage the books during one of the College's great periods of growth under Presidents Frank Sparks and Byron Trippet.
The transition from business to higher education was, at times, difficult for Degitz, but he adjusted and became a legendary figure in Wabash history for his business acumen, attention to detail, and management of complex projects.
"An institution of higher education is, I think, inherently inefficient and you have to accept that," Degitz told Wabash Magazine in 1989. "All you have to do is look at a schedule — a teaching schedule — the hours of use and the unused space almost any hour of the day or any day of the year; it's unproductive space. Look at the football field. Except for kids getting out there and tossing a ball around, for the most part it's empty, but nine months out of the year it's mowed and watered and there are bleachers sitting there empty… We have to start with the assumption that teaching is inefficient. One has to get used to that if he comes from a business situation. You struggle with it, but you get used to it [when you become] part of it."
It was Trippet who convinced Degitz to leave publishing to come to work for Wabash when Frank Sparks was the College's president. "Byron told me the College was getting ready to reorganize. There was quite a great group of trustees planning for the future and they'd already starting a building program and they had planned out quite well what they wanted to do."
Life was simpler in those days when Degitz supervised three people in the business office and they all shared a handful of typewriters and a single adding machine. Degitz used to talk about how groundsmen cut the campus lawn twice a year with horse-drawn mowers.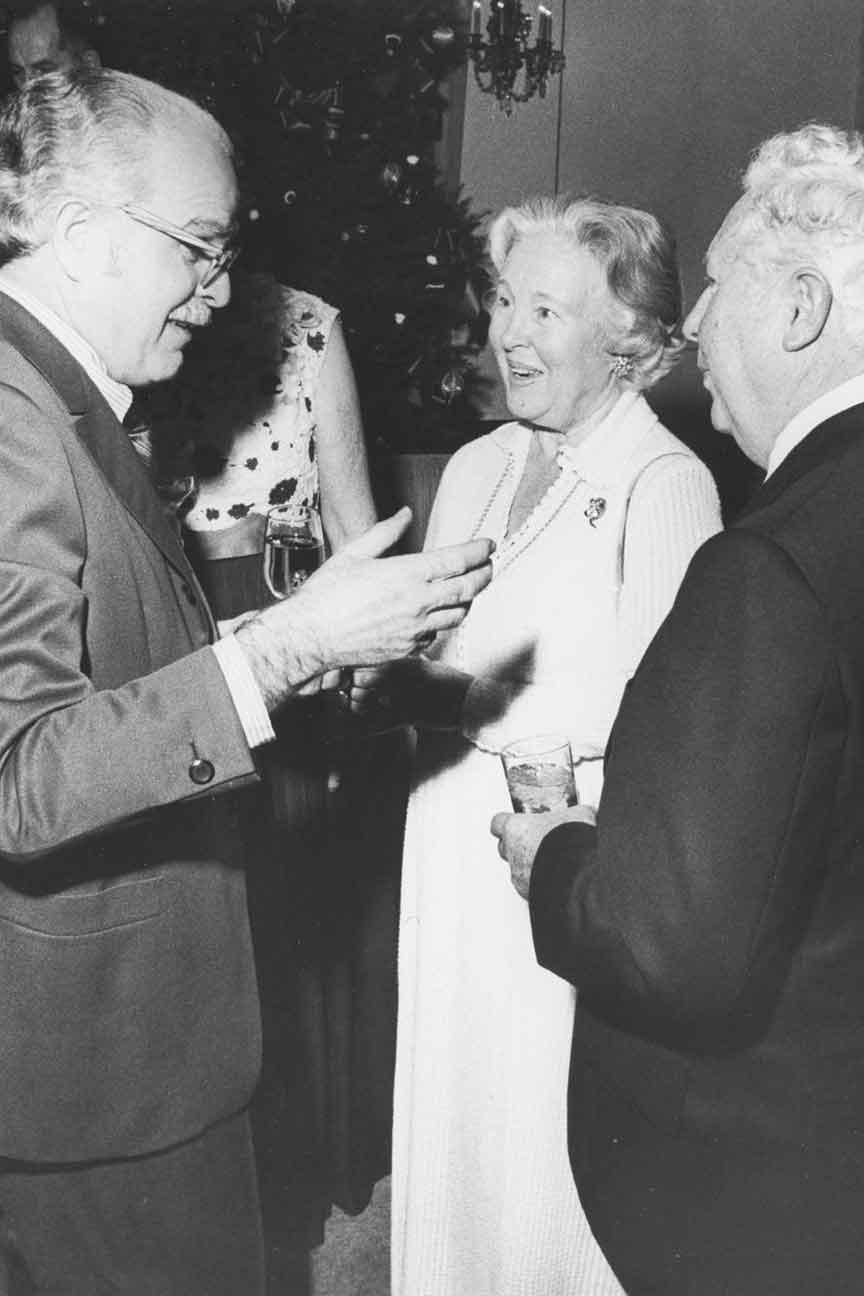 But Wabash changed under the leadership of Frank Sparks and later Byron Trippet, and Degitz was a key figure in Wabash's transformation. He credited Sparks with literally saving the institution. "He was the one who got Eli Lilly on the Board, and what a masterstroke that was," Degitz said. It was the whole difference between what this College is today and what it otherwise might have been. Frank Sparks had done this tremendous job in pulling this institution up by its bootstraps; I mean it was down — financially, physically, almost any way you could count."
In the 1960s — and with Wabash facing still more financial troubles — Degitz worked closely with Trippet and Ben Rogge in applying for a Ford Foundation Grant that was one of the largest grants Wabash had ever received, and, in a sense, provided Wabash the momentum it would need to carry it forward.
Bill Degitz was born November 19, 1920, at Chicago, to William Harrison and Mary Hibert Degitz. He is survived by his wife of 66 years, Becky, whom he married on March 24, 1946. Two children, Judith (Joseph) O'Connor and Michael (Ann Gallagher) Degitz, also survive.
Degitz was a graduate of Bloom Township High School in Chicago Heights, Illinois. After his graduation from Wabash, he served in the Army in World War II before beginning his career.
He was the perfect example of a community gentleman — actively involved in a range of social service agencies and service clubs — and he was a driving force, literally and figuratively, in the success of the Christian Nursing Service. He was a member of the Rotary Club, Elks Club, and Lions Club. He was also a member of First United Methodist Church.
Memorial gifts may be made to Montgomery County Community Foundation, Christian Nursing Service, or Wabash College.
There will be a private memorial service at a later date.