Detroit Event Draws Crowd
by Tom Runge • April 21, 2012

Share: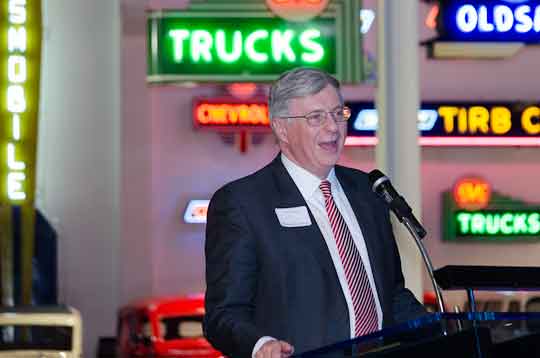 Thursday, April 19, 2012. A great crowd joined Vice President and Treasurer of General Motors, Trustee Jim Davlin '85, and President and Mrs. Pat White at the incredible GM Heritage Center in Sterling Heights, Michigan.
Our largest crowd ever for a Detroit event had the opportunity to walk among over 150 priceless vehicles from a 1969 Corvair with 40.8 miles on it to a 1953 Corvette to a 1911 Oldsmobile to a 1938 concept car at least 20 years ahead of its time.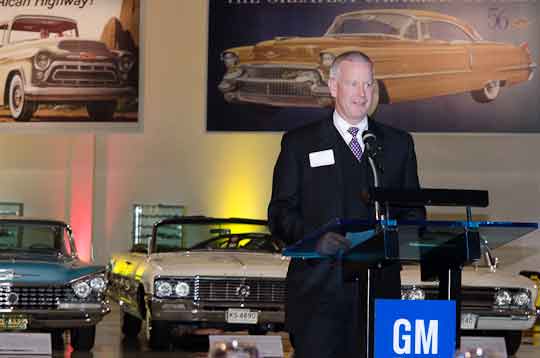 The event was organized by Jim Davlin and Alumni Board member Terry Hamilton '89 – a great time was had by all. Two other Trustees made the trip form Indianapolis to attend the event – Mac McNaught '83 and Kelly Pfledderer '96. Kelly was joined by his lovely wife Jennifer Jones. Also attending was the Wabash Alumni Board Vice President Greg Estell '85.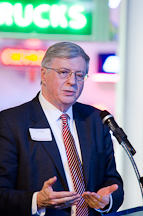 After the reception and dinner, Jim Davlin introduced President Pat White for remarks. Pat provided a thorough update on the College included the past year's athletics performance by Wabash teams, the life-changing experiences our young men undergo starting on Freshman Saturday, and the Challenge of Excellence campaign status.
Many attendees stayed after the formal portion to get one more look at 100 years of General Motors history.
Many thanks to Terry Hamilton '89 and Jim Davlin '85 for a superb evening.
Photos:
Top - President Pat White talks to the group
Middle - Trustee Jim Davlin '85
Bottom right - Pat White
For photos of the evening, click here and here.