Tea Party's O'Donnell Talks Liberty
by Kenny Farris '12 • April 18, 2012

Share:
Former U.S. Senate candidate, and Tea Party favorite, Christine O'Donnell challenged Wabash men to take control of their destiny and the future in her speech Tuesday night at the Wabash College Chapel.
"What you do today will impact millions of Americans yet to be born," O'Donnell told the crowd of Wabash students and members of the Crawfordsville community. "We have the duty of putting the next generation ahead of the demands of today."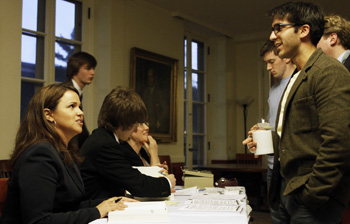 O'Donnell's talk, sponsored by The Wabash Commentary, emphasized the values of the individual and their impact on a free market economy. O'Donnell's talk emphasized the power of college students to make an impact on the workings of government and general society today. Noting how many citizens only hear "sound bites" discussing major issues, O'Donnell called on youth today to "get better at telling the truth."
"If I have done my job here tonight, then you will be ready to join me as modern Minutemen, ready to defend liberty at a moment's notice," O'Donnell said.
Students and community members listened intently and respectfully as O'Donnell weaved personal stories into her discussions on the Declaration of Independence, government debt, and socialism.
"I was a teenager during the Reagan years, and this was a time of peace and prosperity," O'Donnell said. "As we saw the Berlin Wall come down on our TV screens, we watched the hunger for freedom from the heavy boot of government. We saw what people could do when they had control over their own money and people direct their risk and reward. And now we watch as the great American engine of prosperity has seized up and stalled out."
In her talk, O'Donnell stated that every civic issue relates in some way to how people should treat each other with respect.

"The principle of honoring and respecting all human life should direct all aspect of government and servant leadership," O'Donnell said. "You simply can't put a price tag on a human life. It's compelling to know that whenever the principles are violated by totalitarian governments, economic disaster occurs."
O'Donnell, the 2010 Republican nominee for the U.S. Senate in Delaware, visited Wabash as part of her national speaking tour promoting her book Troublemaker. The first 50 attendees received a free copy of her book.