Molière's The Miser Runs Through Saturday
by Jim Amidon • April 17, 2012

Share:
The first time an actor in the Wabash College Theater Department's production of Molière's rollicking farce The Miser grabs a doorknob and it falls off in his hand, the audience is left to wonder if it was scripted or if it was an accident.
By the time banisters drop to the floor and mantelpieces fall off the wall, you realize that this laugh-out-loud comedy has all the makings of a great French farce.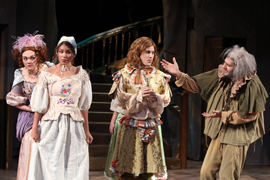 Guest Director Rob Johansen has pulled out all the stops for this production, which runs through Saturday with 8 p.m. performances each night in Ball Theater of the Fine Arts Center. Tickets are free and can be reserved by phoning 361-6411.
A veteran cast, led by Wabash senior Jordan Plohr, stops at nothing to eek out every bit of humor from the nearly 400-year-old story.
Plohr plays Harpagon, an old miser who pinches pennies and pounds as tightly as he can. His mansion is falling to pieces and there are a dozen buckets catching rain in every part of the house. His horses are so malnourished they die while being hitched to the carriage. He waters down his wine — a few drops of wine and a full bottle of water suffices.
Harpagon wishes to marry, but more important he seeks to quickly marry off his daughter Elise, played by Abby Gillan, because the suitor (Seigneur Anselme played by Chris McCloskey) requires Harpagon to pay no dowry. "No dowry," Plohr repeats over and over to tear-producing laughs.
Johansen says he's urged the actors to stop at nothing in this no-holds-barred production.
"We are trying to find a style with this piece that honors both the time period of the 1600's and still has a contemporary air to it," said Johansen, who is a veteran at the Indiana Repertory Theatre and regional playhouses all over the country.
"I have been urging the actors to lean toward an honest investment to very heightened stakes. If you are in love, you are desperately in love — to the point where you could almost break into song about your feelings. I think that is a fun way to approach farce."
Harpagon is led to believe that the lovely Mariane, played by Crawfordsville's Jennifer Peacock, is willing to marry him in spite of the 40-year age difference. Meanwhile, Mariane is secretly in love with Harpagon's son, Cléante (played by Brad Hopper). Orchestrating at least part of the madness is the sneaky, stealing woman of intrigue, Frosine, a part played by Wabash rhetoric professor Sara Drury.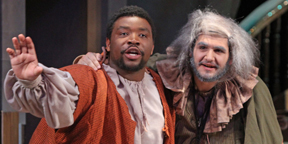 Because Molière could never stop at one mad-cap story line, there are others. As he plots to marry off his daughter to an old man who wants no dowry, Harpagon seeks advice from his faithful servant, Valère (played brilliantly by Joe Mount). Valère is in love with Elise and hopes to marry her, but the thought of Harpagon being able to marry off his daughter without a dowry gives him pause… and another pause… and still another.
James Gross has again done remarkable work designing and building a large-scale set — a mansion that literally falls apart as the show progresses. Laura Glover's lighting adds starkness to the miser's mansion, while at once heats up the action as the play progresses.
Andrea Bear showcases her skills as a costumer with period frocks that are simply gorgeous in color and style. Of course, for the miser himself, the word "rags" better describes Harpagon's clothes.
Crawfordsville's Joe Reese keeps all the action moving as the production's very busy stage manager.
The cast of Molière's The Miser includes: Jordan Plohr as Harpagon; Brad Hopper as Cléante; Abby Gillan as Elise; Joe Mount as Valère; Jennifer Peacock as Mariane; Chris McCloskey as Seigneur Anselme; Sara Drury as Frosine; Han Nie as Maître Simon; Devan Young as Master Jacques; Reed Hepburn as La Flèche; Taylor Zartman as Dame Claude; Nikolas Jones as Brindavoine; Leo Helfer as La Merluche; and Raynor Mendoza as the Commissioner.
For tickets, email boxoffice@wabash.edu or call 765-361-6411.
More News
---
---
Photo Galleries

The Miser at Wabash College (April 2012)