Senior Art Exhibit Open Through Graduation
by Howard Hewitt • April 13, 2012

Share: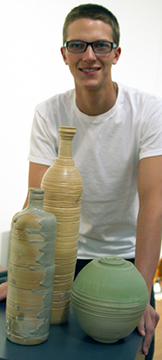 Wabash's senior art majors are sharing their capstone experience with a public exhibit in the Fine Arts Center..
Matt Levendoski, Kelvin Burzon, Yangnan "Paul" Liu, Evan Bayless, Brandon Doebler, and Ben Muensterman are displaying works in the annual Senior Art Majors Exhibit in the Eric Dean Gallery, Randolph H. Deer Art Wing.
"This exhibition represents the first time, for most of our seniors, that their work has "gone public," said Art Professor and Department Chairman Doug Calisch. "It is a rite of passage and the final graduation requirement for all studio art majors.
"Because the curriculum for an art major requires focused pursuit of a particular medium, technique, and/or concept, the works exhibited are the culmination of a three-semester investigation. With close mentoring, the students take responsibility for the overall layout of the exhibition, the exhibition publicity, personal artist statements, and gallery outreach to local schools. In addition, each graduating studio art major will leave one piece with the College, to be displayed permanently on campus."
Calisch takes pride in presenting the students work in each year's annual exhibit. He called the six seniors a supporting and nurturing group. "With subject matter as varied as photographic reflections, Chinese childhood, serotiny, ceramic elegance, the seven deadly sins, and fanciful architecture, the exhibition promises to be a rewarding experience for both artists and viewers."
Bayless is presenting "Bottles" and "Aryballo" a series of "vessels that have similar bodies but were given individual identities in the treatment of their necks, textures, and stoppers," he wrote in his artist's statement.
"I chose to incorporate all natural materials in the textures and accessories of my vessels," the Crawfordsville native said. "Some of the pieces received texture from materials like tree bark, knots from trees, deer antlers, turtle bones, corncobs, pinecones, fossils, and shells." (Bayless artist statement)
Doebler's photography exhibit is titled "Reflection" giving an opportunity to learn from the past and question the future. Doebler is from Pekin, Indiana.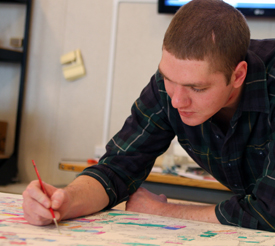 "While I enjoy naturally occurring reflections, I have also become fascinated with creating reflective abstractions in and through my work," Doebler said. "My interest in the unknown continues to propel me into a world of spatial ambiguity and abstraction." (Doebler artist statement)
Kelvin Burzon, Fort Wayne, was inspired by old daguerreotype death portraits.
"I've been obsessed with such images, their beauties, and the taboos that revolve around them," he said. "The discomforts that surround these images explore our fear or sensitivity to death." (Burzon artist statement)
Matt Levendoski, LaPorte, In., finds inspiration in philosophy for his artwork. "Environmental stimuli such as fire trigger serotinous plants to release their seeds," he wrote in his artist's statement. "This image of fire as life giver has driven me to create works that balance naturally occurring events with my creative process." (Levendoski artist statement)
Ben Muensterman, Evansville, is presenting his artwork with a mind's eye toward his hometown. "I have always been interested in the way that communities develop and expand over time," Muensterman wrote in his artist statement. "My visual style has been passed down to me by the culture in which I have grown up, and it also allows me the opportunity to contribute something new to this same culture to which I belong. " (Muensterman artist statement)
More News
---
---
Photo Galleries

2012 Senior Art Show