Peck Winner Advocates Liberal Arts Approach
by Howard Hewitt • April 4, 2012

Share:
The Rule of Law is no esoteric standard understood by few and affecting even less. The 2012 Peck Medal winner William Neukom suggested respect for the Rule of Law along with a fair and balanced approach to tackling problems and major issues would improve worldwide society immeasurably.
Neukom was presented the Peck Medal at a dinner Wednesday night after giving formal remarks prior to the evening's banquet. Neukom founded Microsoft's legal department, served as President of the American Bar Association, Founded the World Justice Project, President of the Board of Trustees of Dartmouth, and continues to serve as Chairman Emeritus of the San Francisco Giants.
Students were honored by the Pre-Law Society and Wabash College for their work and potential during the evening banquet. See a full list of honorees below.
Neukom's talk was titled "The Value of a Liberal Arts Education and an Appreciation for the Rule of Law in Complicated Times."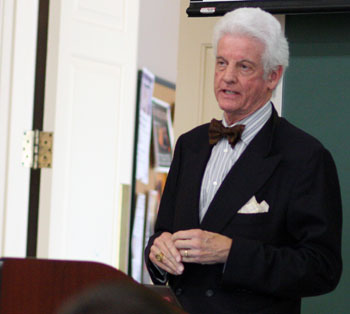 "When rule of law is practiced it tends to encourage the bright side of human nature and when it's not it encourages the dark side," Neukom summarized after setting a contextual background for his remarks and applying the rule of law to challenges facing the U.S. and world.
He started with providing the context of today's society and the challenges of climate change, divided communities, partisan government, and the lack of trust in governing institutions. He included social unrest and the instability of the global economy.
"This may be the first president elected (this year) determined by factors out of his control," Neukom said. "The current administration knew it had to straighten out the U.S. economy but not the world economy."
He added his personal worries on a more familiar level when considering the expanding knowledge base of mankind and the new ways to communicate. "I worry a lot about my grandchildren and how do they know the wealth of information they're getting on the internet is accurate?"
Neukom tied a liberal arts education closely to strengthening the rule of law in every facet of life. He cited several examples. The world needs labor to build things but who controls working conditions, he asked. Who makes sure the laws are clear and fair for workers. Medicine has made great advancement, he noted, but who makes sure medicines get to people around the world who need it most.
A liberally educated man or woman would be most likely to understand difficult issues beyond the shortcuts, greed, and political expediency which rules much decision making worldwide today. "A multidisciplinary collaboration is the most effective way to advance the rule of law. We're all stakeholders in what happens in society. We ought to be getting together around tables and making decisions.
The access to the justice system creates chaos everywhere. "Eighty percent of folks on welfare have no access to civil justice," he said. "The judiciary is being starved with judges laid off and courts closed."
He cited a South Dakota movement that was going to elect citizen panels to review judge's decisions and have the power to overturn them as chaos in the judiciary. Fortunately, he noted, critical thinkers prevailed.
He offered four principles that would guide a path to better reliance on the rule of law.
Government officials have to be accountable under the law.
Laws have to be clear, publicized, stable and fair.
The process by which laws are enacted, administered and enforced has to be accessible, fair and efficient.
Justice is delivered by competent, independent and ethical representatives who are neutral, provided resources, and represent the community.
"Rule of Law is everywhere," Neukom said. "When the tsunami comes and the first building collapse is the hospital is it because the right materials went out a side door to a prince? Or, is it because there was no building inspector to enforce the code?"
Neukom celebrated the connections of Wabash and his Dartmouth alma mater to begin his presentation. He noted that Caleb Mills and Edmund Hovey were Dartmouth grads. He singled out the leadership of President Thaddeus Seymour at Wabash and who was Dean of Students at Dartmouth when Neukom was a student on the Hanover, New Hampshire, campus.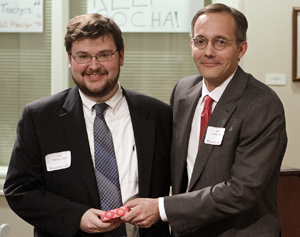 The awards included:
Richard O. Ristine Law Award presented by Riley Floyd
Jane Ann Himsel
Steve Creason '97

Junior Peck Medal presented by Scott Himsel '85
Tim Markey '12 (photo at right)

James E. Bingham Award presented by Matthew Price '90
Kyle Bender '12
Steve Henke '12

William Nelson White Scholarship Award presented by Aaron Cook '06
Tommy Ball '12 (not pictured)

Joseph J. Daniels Award in Constitutional Law presented by David C. Worrell '73
Jeremy McDonald '13
Matt Paul '13 (not pictured)

Senior Peck Medal presented by Pat White
William Neukom
The David W. Peck Awards Banquet has been held each year since 1974. The event was established by long-time Trustee John P. Collett '24 in tribute to his dear friend and fellow Trustee David W. Peck '22. Peck enrolled at Wabash at age 16, graduated at 19, and had finished Harvard law by 22. He had a long and distinguished career as a judge and partner in the New York law firm of Sullivan and Cromwell.
More News
---
---
Photo Galleries

2012 David W. Peck Awards Banquet