Community Cookout at Local Animal Shelter
• April 4, 2012

Share: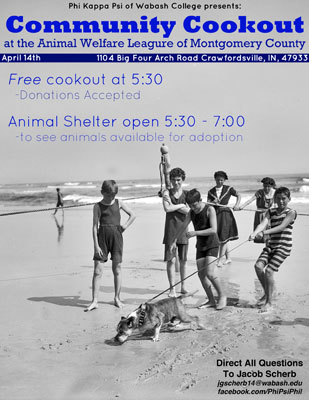 Wabash College Fraternity, Phi Kappa Psi, and the Montgomery County Animal Shelter are hosting a community cookout to raise funds and awareness for animal adoption.
The event will take place on Saturday, April 14 from 5:30 to 7:00 p.m. at the local Animal Shelter, located at 1104 Big Four Arch Road, Crawfordsville. The fraternity will be grilling hotdogs and hamburgers and will have drinks available as well. This event is free and open to the public; donations are being accepted at the shelter.
The Montgomery County Animal Shelter currently has several dogs and cats that need a loving home. As one Wabash student said, "I've spent a few Saturdays at the shelter and they do a great job, but they need help. The animals need a good home and the shelter needs more funding." The shelter will be open at the event and families will be able to see all the animals. Animal Welfare League volunteers will be on hand to answer any adoption questions.
For more information about the event, contact Jacob Scherb at 317-455-5007 or email him at jgscherb14@wabash.edu.