Students Address Reading at Conference
• April 2, 2012

Share:
Wabash and Hampden-Sydney men shared thoughts last week at a national conference about guys' reading habits. Wabash English Professor Warren Rosenberg, along with Professor Eric Freeze, accompanied the students.
Rosenberg reflected on the experience:
Warren Rosenberg, Professor of English - Both panels, especially the students', were very well received. The faculty panel focused on our collective experiences of Wabash and Hampden-Sydney students reading in our courses. The general consensus, in response to the "Guys Read" website that aimed at younger boys and sought to get them to read by suggesting books that appealed to stereotypes of boy interests -- war, fantasy, adventure -- was that our students learned more by being challenged to read works that seemed "not" to fit their stereotypical male interests.
So Eric Freeze, for example, discussed our strong student responses to books like Zora Neal Hurston's Their Eyes Were Watching God, a book about the life and loves of an African American woman in the early part of the 20th century. Similarly, I discussed some initial negative reactions to the memoir Becoming a Man, the story of a gay man's struggle to find acceptance by society and by himself, when the book was introduced to my freshman tutorial. A number of those students ultimately found the book rewarding to read. The conclusion of the panel was that when presented with an appropriate theoretical framework and open discussion pedagogy, that did not judge students for their responses, works like this could be seen to move students to high levels of engagement with, and understanding and empathy for those unlike themselves.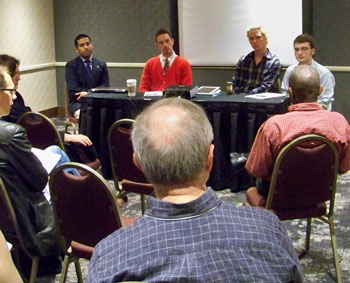 The faculty members at Hampden-Sydney reported almost identical learning experiences in their all-male classes. Prof. Elizabeth Deis commented that a female professor teaching texts that challenge a class of young men could be a special challenge in itself. But that her experiences teaching texts like Charlotte Perkins Gilman's Herland, Annie Proulx's The Shipping News, and August Wilson's Fences was that the plots and characters draw students in, and her pedagogy of emphasizing the fact that she and her students shared common values -- concern with fairness, a conviction that different points of view should always be heard and considered, that it's okay, given the evidence in texts, to change one's mind--led to students opening up to texts to which one might think they would not respond.

The student panel was clearly appealing and moving to the audience in attendance, who commented and asked questions for 30 minutes after the presentations. Each panelist shared his personal history as a reader, several noting that they did not like to read at all when young -- confirming the "Guys Read" websites assertion that there is a serious cultural problem. But then they each spoke movingly about when reading caught on with them -- Diego Velasco mentioning Catcher in the Rye, Reed Hepburn talking about his father "forcing" him to listen to what Reed felt was a "girl's" book, Little House on the Prairie, until finally Reed got so caught up in the plot and the lives of the characters that he was "hooked" and had to find out what happened.
This all led to a much more sophisticated and nuanced experience of reading in college. Reed had read the Becoming a Man memoir in Tom Stokes's freshman tutorial, and after initial resistance came to fully appreciate the text, even more so on reflection as a senior taking a gender studies seminar. Wyatt Lewis said he hated reading as a child, until during a week being sick in bed his brother gave him Robin Hood to read, and has been an avid reader every since. Wyatt talked about reading a very disturbing novel by Angela Carter in a course taught by Agata Brewer, which he almost could not finish.
But again, as in Reed's case, he came to so appreciate the book's message and unique style that he actually wrote a paper on it that he delivered at an undergraduate research conference. So the student panel complemented the faculty panel in demonstrating that students at our two colleges grew tremendously by being challenged by difficult often disturbing texts, confirming that "guys reading," and importantly discussing what they read in free and open discourse with their peers and professors, can transform their tastes in reading and even their lives.
Photo Information: At top,Hampden-Sydney's sophomore Diego Velasco, Reed Hepburn '12, H-S junior Beau Bryan and Wyatt Lewis ' 13. Below, Hampden-Sydney faculty Lowell Frye and Elizabeth Deis, both in rhetoric.