Honor Scholarship Weekend Underway
by Jim Amidon • March 16, 2012

Share:
Wabash College rolled out the red carpet for 350 high school seniors visiting campus for the 119th Honor Scholarship Weekend.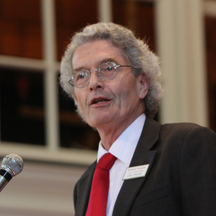 Sunshine and record-high temperatures greeted students when they arrived for Friday morning's Activities Fair. While on campus, the students are taking competitive exams for merit scholarships totaling more than $3 million.
See pictures from Honor Scholarship Weekend.
In welcoming the young men and their families for the weekend, Dean of Admissions and Financial Aid Steve Klein talked about what makes Wabash special.
"As you sort out the differences in the colleges you're considering, you'll discover that at Wabash we're a very tight-knit community," he said. "Over the course of four years on campus, you'll have the opportunity to meet and get to know nearly every member of the faculty and staff."
Klein was one of five speakers who welcomed the Honor Scholars and their families. Dean of the College Gary Phillips gave the keynote address and said that while the Wabash community is a close one, "there is no one way to be a Wabash man."
"This weekend you will encounter some Wabash men who seem like you, some who seem quite different from you; men from Indiana and men from all over the world; a band of brothers here who form a rich and complicated mix, walking their own paths, reflecting a vibrant tapestry of races, ethnicities, faiths, interests, skills, desires, and hopes for themselves and our world. Wabash men reflect these many differences and more."
Lots of colleges make promises of life-changing opportunities, Dean Phillips said, and lots of schools will provide a good place to study for four years. But the students attending Wabash's Honor Scholarship Weekend want something more… and then some.

"In you, we see young men of achievement and courage who are ready to take the road less traveled. Some schools teach you how to hone the abilities you already know; Wabash helps you discover those that you never knew you had.
"We see men of strength and passion, hard working men who have already accomplished much. Some schools reward you for the excellence you have already achieved; Wabash challenges you to discover the potential for greatness not yet expressed.
"We see men of confidence, able to hear many voices and to speak for themselves. Some schools teach you how to lip sink the melody. Wabash teaches you to sing your song.
"We see men who want to be heroes in their own lives. Some schools teach you about the heroines and heroes of the past; Wabash teaches you to look into yourself and into the hearts of your fellow students and find what enables you to become a hero in your time."
Dean Phillips concluded by urging the Honor Scholars to ask current Wabash students hard questions about why they chose Wabash and how Wabash has changed them.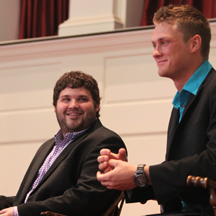 That sentiment was echoed by three student speakers — Student Body President Alex Robbins, Independent Men's Association President, David Roaten '14, and Inter-Fraternity Council President Colten Craigin.
"I encourage you to be selfish this weekend," Roaten told the high school men. "This weekend is about you. I urge you to look at everything Wabash has to offer. Go out, meet people, and ask questions. Be selfish, and find out if Wabash is right for you."
Roaten (above left) also described the many independent housing options available to Wabash students — from the newly renovated College Hall and Cole Hall to small houses owned by the College.
Robbins (right) gave students a couple of reasons not to come to Wabash: "If you're looking for a place where you can sit in the back of a lecture room and sleep, don't come to Wabash," Robbins said. "If you want it easy, don't come here."
Robbins said Wabash is a competitive place, but not in the normal sense of the word. He said Wabash men are "always striving to be the best community, the best college, the best gentlemen around."
Craigin (right), representing Wabash's nine national fraternities, dispelled myths about Greek life and noted that more than half of all Wabash students are members of fraternities. He described the benefits of structured study tables and the bonds of brotherhood that turn into friendships for life.
Craigin also urged the students to ask good questions. "Tour all of the houses this weekend, ask the members good questions. There's a place for everyone here at Wabash."
Dean Phillips summed up the weekend in his opening remarks when he said that the Honor Scholars provide the College a glimpse of its future. "You young men gathered in this special place represent the future of Wabash College.
"Wabash has a great history and an even greater future because of you young men. Everything that we do at Wabash is designed with one thing in mind, to educate you to think critically, act responsibly, lead effectively, and live humanely."