Alumni Prep Top Ten Students for Wabash
by Howard Hewitt • February 20, 2012

Share:
Chris Cotterill '99 told visiting Top Ten Students Monday morning that attending Wabash is not about finding a career. Attending Wabash, he said, was about finding opportunity.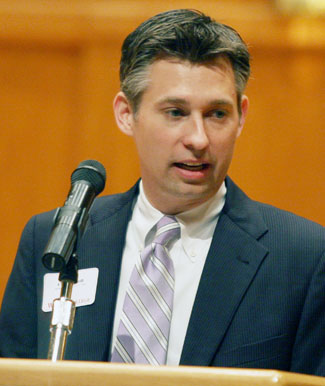 Cotterill, Chief of Staff to Indianapolis Mayor Greg Ballard, was the morning's keynote speaker. He followed welcomes by Dean of Admissions and Financial Aid Steve Klein and President Patrick White. All of the students are in the Top 10 of their high school classes. The students and parents heard from college administrators, faculty, and alumni about Wabash College.
"Today is about investing in yourself. If you're here thinking about a job, I'd encourage you to look in that direction," Cotterill said. "Wabash is far, far more than just a place you'll attend for four years of your life."
The former student body president and Bachelor editor went on to say that he doesn't define himself by his job and hopes the students never do as well.
"I point to my time at Wabash as the experience that changed my life forever," he said. "My case to you today is it's not just likely you'll have a successful career if you come to Wabash, but it's almost guaranteed.
"Life is not determined by the right answer to a multiple choice question."
Cotterill then talked about his relationships with faculty, staff, and alums as the hallmark of his Wabash experience. He spoke extensively about the Wabash alumni network.
"Nothing will be given to you or be easy for you," he assured the young men. "But if you work hard, and you're enthusiastic the Wabash network will open up for you."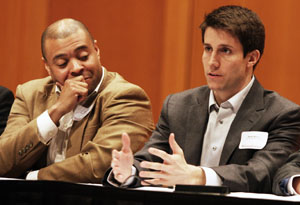 He wanted the students to know they weren't just hearing from a select group of alumni during their visit day. He challenged them to seek out other Wabash men in their community and see how the College changed their lives.
The alumni panels are always popular with younger alums returning to address the reach of the College network, academic rigor, classroom size, relationships, and the environment of an all-male classroom.
The students took tours, met with coaches, and learned about study abroad and immersion learning, then had an academic session in the afternoon to become acquainted with the Wabash classroom experience.
More News
---
---
Photo Galleries

2012 Top Ten Visit Day

2012 Top Ten Visit Day