Casa Feliz Hosts Wabash Evening
by Tom Runge • February 11, 2012

Share: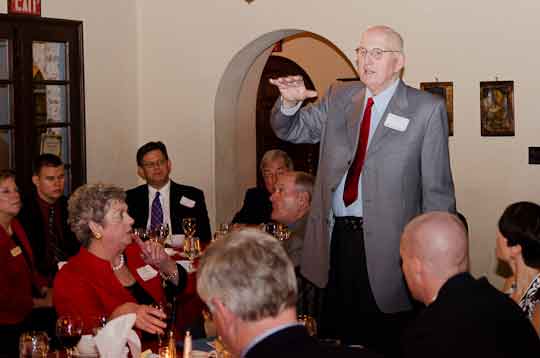 Wabash hosted a very special event in the Orlando area on February 10, 2012 at the historic Casa Feliz. Two Wabash presidents, Thad Seymour H'78 and current President Pat White, along with Professor Melissa Butler, made remarks.
President Seymour welcomed the group and gave a brief overview of the historic home. The house, made of brick, weighs over 700 tons! It was moved over 2,000 feet to its current location after a successful community effort to save it from destruction.
Professor Melissa Butler updated the attendees on the Challenge of Excellence from a very personal perspective. She noted the importance of scholarships in an age where the cost of a good education is steadily increasing. She also noted that the faculty has witnessed firsthand the positive impact of immersion courses on our young men.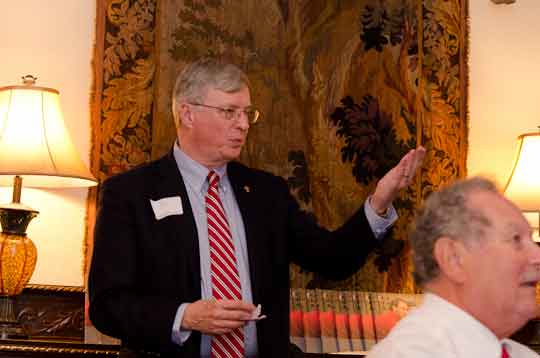 President White gave an update on the college including many stories of his interaction with students. Wabash continues to make young men world changers. President White thanked the group for their support of Wabash noting that even in tough times Wabash remains strong because of the loyal support of the Wabash community. The President ended by pointing out quarterback-turned-filmmaker Russ Harbaugh '06, an art major, had one of the few films chosen for the Sundance Film Festival. He also mentioned Trustee Kelly Pfledderer '96, a speech major, who went from an IT student worker at Wabash to owning one of the fastest growing IT companies in the greater Indianapolis area.
Many thanks to Thad and Polly Seymour for setting up a great evening.
For more photos of the evening, click here.
Photos:
Top - President Thad Seymour explains the move of Casa Feliz
Middle: President Pat White