Entrepreneur Summit Meant to Inspire
by John Dykstra '13 • February 9, 2012

Share:
Career Services is hosting its second Annual Entrepreneurship Summit 8:30 a.m. to 2 p.m., Saturday, at Chadwick Court. The summit includes an overview of six entrepreneurial categories led by Wabash alumni, two keynote speakers, and a networking session to help those interested through the beginning stages of becoming an entrepreneur.
"Entrepreneur experiences are a complement to the liberal arts," Director of Career Development Scott Crawford said. "So, we want students and others who may not exactly know where they fit, to explore this as a resource or idea generator."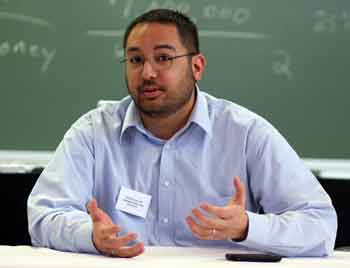 The Entrepreneurship Summit is much more than giving concrete details about being an entrepreneur. It provides those interested in being an entrepreneur with a broad understanding of what an entrepreneur is.
"Of course you are going to get a lot of concrete advice in the entrepreneur summit," Assistant Director of Career Services James Jeffries said, "but more generally, it's also meant to inspire people who have a good idea, who are ready to innovate, who want to take an idea forward and give it an institutional context. Even less than that, if you just have the sense that is valuable to innovate, even though you do not have an idea yet, this would be a good place to figure out what is going on in entrepreneurial activity and start to develop or key-in on an idea.
"Even more broadly than that, someone should have the idea that entrepreneurship is about more than just profit-seeking and business production; it is about innovation, and that innovation can be in a public or private context and non-for-profit context, it can be about social innovation in entrepreneurship. It's about bringing new ideas to life, and that means that students with a wide variety of ideas that they can't find a home for, can come and figure out what entrepreneurship has to offer."
See details and schedule on the related link, at right.
The summit covers a wide variety of information regarding the first steps in becoming an entrepreneur.
"There are six different categories, and these categories address issues in the start-up phase of the entrepreneurial process," senior Adam Miller said. "So, if you have an idea on what steps to take to make it a reality — dealing with the proper paperwork for the IRS and the various forms to fill-out, marketing and social media, and part managerial growth and partnering—we try to touch on every broad area we can think of.
"There are going to be two people on each panel, Wabash alums. They are pretty much going to give a preview of their previous entrepreneurial work. There is going to be a Q&A session where the crowd is going to be interacting with the panelists."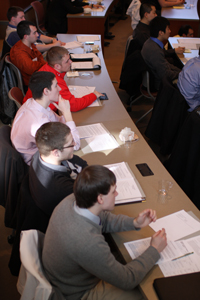 Twenty year old entrepreneur Cory Levy and author Kelsey Timmerman are the keynote speakers. Levy will speak at 9 a.m. and Timmerman will speak at 12:45 p.m.
Levy was recently at the University of Illinois, but has been on temporary leave in San Francisco to work on a mobile application Miller said.
Timmerman is the author of Where am I Wearing?: A Global Tour to the Countries, Factories, and People That Make Our Clothes.
"Kelsey is an author who approaches entrepreneurship in ways that people might not have considered," Miller said.
The final segment of the Summit is a networking session amongst the keynote speakers and the audience. Members of the audience will also have a chance to network with one another.
Career Services looks for the event to be a big draw. The event has expanded compared to last year's summit. Over 70 students outside of Wabash have registered along with over 40 Wabash students. Members of the Crawfordsville community are welcome to attend.