Wabash Will Take You Seriously-Pres. White
by Tom Runge • February 3, 2012

Share: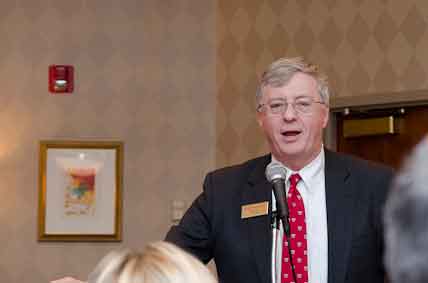 The Greater Cincinnati Association of Wabash Men welcomed President and Mrs. White back to the Cincinnati area on Thursday, Feb 2, 2012. The group also welcomed three prospective students and their families to the dinner and served up a healthy portion of Wabash!
Pat White updated everyone on the Challenge of Excellence and what it is doing for Wabash. He also mentioned the great fall the College has enjoyed with a larger than normal entering class and successful seasons by a record number of our athletics teams.
But Pat's message was clearly focused on the students looking at Wabash and their parents. The theme of "we'll take you seriously" was one that really resonated. Alumni from many different generations, and their guests, nodded in agreement.
The College guests included Pat and Chris White, Professor Greg Redding '88, and Jill Rogers filling the Admissions role.
Many thanks to Bill Augspurger '64 who set up the entire dinner and served as the evening's emcee.
Photo: President Pat White
For a few more photos, click here.