Details on Entrepreneur Summit
• January 31, 2012

Share:
Wabash College will host its Second Annual Entrepreneur Summit on Saturday, February 11. The day-long event will feature a range of speakers and panel talks geared toward entrepreneurship and what it takes to start your own business.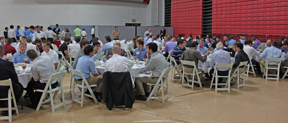 "The Summit is an excellent opportunity to learn how to take your entrepreneurial idea from concept to reality," said Scott Crawford, Director of the Schroeder Center for Career Development at Wabash. "Our goal is to help connect entrepreneurs at all levels of development and experience to share best practices and resources."
Participants thus far include students and alumni from Wabash College; students from Butler University, DePauw University, and Rose-Hulman Institute of Technology; and members of the Crawfordsville community.
The Summit will take place at Chadwick Court in the Allen Athletics and Recreation Center, and begins with a continental breakfast at 8:30 a.m. Participants can also take part in a networking lunch.
The morning keynote speaker will be Cory Levy, who, at 20 years old, is the co-founder and chief operating officer of One, a mobile networking application. The University of Illinois student raised more than $1 million in venture capital to launch his idea.
The afternoon keynote speaker is Kelsey Timmerman, a journalist and travel writer who wrote Where am I Wearing: A Global Tour to the Countries, Factories, and the People that Make Our Clothes.
Panels featuring Wabash alumni will cover topics such as:
• I Have An Idea, Now What? — Steps to take an idea and turn it into a successful business
• Start-Up Legal Issues — How to file the proper paperwork and abide by small business laws
• Financing — Creating and maintaining a budget during the start-up phase
• Marketing/Social Media — Marketing strategies for new businesses; integrating social media into the equation
• Managing Growth/Partnering — Sustaining growth and branching out to partner with other people
Panelists include: Joe Trebley, the head of Startup Support and Promotion at the IU Research & Technology Corporation; Chris Brown, partner at Woodard, Emhardt, Moriarty, McNett & Henry LLP; John Bridge, partner at Plews Shadley Racher & Braun LLP; Mark Rutherford, attorney with Thrasher Buschmann & Voelkel, P.C.; Tony Altavilla, president of Redstone Communications, LLC; Jason Bridges, owner and operator of Nantucket Bike Tours; Herm Haffner, owner of Total Solutions; Brian Deyo, co-founder, Last Bite; and Tyler Bush, creative catalyst at Rusted Blue.
Cory Levy and Kelsey Timmerman will serve on panels in addition to their keynote talks.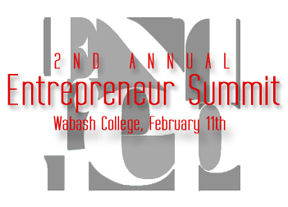 Second Annual Entrepreneur Summit Schedule
8:30 a.m. — Breakfast
9:00 a.m. — Keynote — Cory Levy
9:30 a.m. — I Have An Idea, Now What
10:00 a.m. — Legal Issues
10:45 a.m. — Financing
11:15 a.m. — Marketing/Social Media
11:45 a.m. — Networking Lunch
12:45 p.m. — Keynote — Kelsey Timmerman
1:15 p.m. — Managing Growth/Partnering
1:45 p.m. — Closing Remarks
2:00 p.m. — Networking