Freedom Rider to Highlight MLK Celebration
• January 12, 2012

Share:
The Malcolm X Institute of Black Studies and Wabash College will celebrate the legacy of Dr. Martin Luther King Thursday with one of the civil rights' movement's Freedom Riders.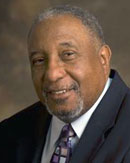 Dr. Bernard Lafayette, Jr. has been a key leader as a civil rights activist since the early 1960s. Dr. Lafayette will be on campus for several public presentations.
Lafayette played a key role in the 60s voting rights campaign, Student Nonviolent Coordinating Committee, Southern Christian Leadership Conference, and is most closely associated as a leader of the iconic Freedom Rides of that tumultuous decade.
His actions led to jail time following riots, fire bombings, and protest marches. He earned his doctorate at Harvard University and led the University of Rhode Island's Center for Nonviolence and Peace Studies program. He current teaches at Emory University.
Dr. Lafayette will be on campus Thursday to speak at a noon luncheon at the MXI on the Freedom Rides and the organization of the Student Nonviolent Coordinating Committee. From 4:15-5:15 in Center 216, Lafayette will have an open lecture/discussion on the topic of student activism and conflict transformation that is open to the public. He is also expected to visit classrooms.
The men of the MXI will host Dr. Lafayette for a dinner Thursday night.