Wabash Remembers Professor Peebles
by Jim Amidon • January 6, 2012

Share:
Wabash College is saddened by the passing of long-time and beloved Professor of Religion Hall Peebles, who died Thursday at the age of 81. A native of Augusta, Georgia, Hall taught at Wabash from 1958 until his retirement from the College in 1998.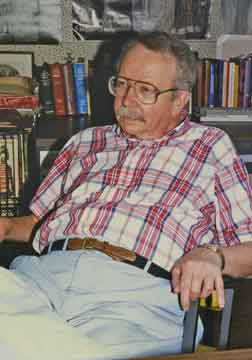 The man students referred to as "Yahweh" because of his dramatic (and precise) Old Testament lectures was graduated from the University of Georgia with a philosophy major. He attended Yale University, where he received his bachelor's of divinity degree, and his master's and Ph.D. in theology.
Read alumnus Adam Pope's biography of Dr. Peebles, written in 2003.
In 1991, the National Association of Wabash Men named him an Honorary Alumnus. He was also the recipient of the McLain-McTurnan-Arnold Excellence in Teaching Award.
He was preceded in death by his wife, Emma, who passed away in 2009. Survivors include their sons, David, John, and Mark.
Dr. Peebles was a frequent Chapel speaker and preached Sunday worship services in the Chapel throughout his career. His lectures on the Old Testament were broadcast on local cable television. He was also an expert on Far-Eastern religions. "His knowledge of Daoism, Confucianism, Legalism, and Buddhism bring Wabash College students closer to a cultural understanding of China and Japan," said Dean of the College Paul McKinney in 1984.
Born January 9, 1930, Hall and his wife, Emma, had three sons, David, John, and Mark. Arriving at the College as an instructor in the religion department, he received tenure in 1964 and was named a full professor in 1977. In 1980, he was named the Edgar Evans Professor of Religion. "In appointing Professor Peebles to the Evans Chair of Religion, the College again recognizes distinguished teaching," said then-Dean Vic Powell. "For over 20 years, the Old Testament and its prophets have come alive through the teaching and particularly the lecturing of Professor Peebles."
"His lectures were absolutely outstanding in their clear organization, minute presentation, ability to engage students, and with a precision that few of us had," said his long-time colleague Raymond B. Williams. "His mannerisms of getting out the handkerchief, the tapping of the watch, and ending the lecture right before the bell rang were legendary. I recall a time when I sat in on one of his lectures, which was brilliant. At the end of the class, I sneaked a peek at a small sheet of paper from which he gave the lecture. There were but five words on it."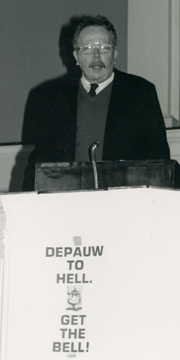 He was celebrated and even legendary for the grace in which he served as Secretary of the Faculty. He also served as chairman of the religion department and was a co-chair of Cultures and Traditions. In 1988, Dr. Peebles presented the Ninth Annual LaFollette Lecture in the Humanities: "Heaven, Hell, and Holy War." But perhaps his most beloved remarks were his spirited Monon Bell pep talks, and in particular, his "Tribe of Dan" speech, which did more to inspire 800 men to laugh like children than to take to the gridiron with appropriate intensity.
"He had a remarkable mind, a remarkable generosity of spirit, and a remarkable example of a style of gentlemanly behavior," added Dr. Williams. "No one could copy it, but we all could recognize it. He was beloved because he was so special, unique. As the Scripture says, 'As wise as a serpent and as harmless as a dove.'"
He was a prolific scholar, authoring scores of book reviews and journal articles. In 2005, he published The Last Judgment and World Religions (Polyglot). "Two generations of students have known Hall Peebles as the best lecturer at Wabash College, a master at presenting vast ranges of material in clear and fascinating form," said the late William C. Placher '70. "Readers of [The Last Judgment] will find what his students recognized—here is a writer who combines the fruits of a lifetime of study of the world's religions with a marvelously accessible style. This is not only an important book, it's a delight to read."
Williams said that Peebles had as "close to a photographic memory as anyone I've ever known." He said Peebles' large library was always close to mind, and that he could locate specific passages in texts after a brief pause for recollection. "I never knew if that pause was because he was thinking things through or if it was to downplay the greatness of his memory."
Dr. Peebles traveled throughout the world later in his career, trekking the Pilgrim's Road from Bordeaux, France to Santiago, Spain, the Silk Road in China, and the Killing Fields of Cambodia. Among the first Americans to visit Cambodia after the genocide, Dr. Peebles said, "I wanted to see how Buddhism had fared under the Khmer Rouge, but I was not prepared for the impact that the Killing Fields and museum of genocide were going to have on me. It was very raw, you had the feeling that the wounds had not healed."
In 1998 on the occasion of his retirement, the Indianapolis Association of Wabash Men honored Dr. Peebles with its Lifetime Achievement Award. In presenting the award, alumnus Mike Shaver said, "As we stand here today, the miracle of Wabash lies in her ability to inspire greatness in successive generations, and the role of each is to move the bar higher. You have shared yourself with four generations of us, from saint to sinner… And we send you from here this night, with the sum of the wishes of all our hearts, that you and Emmy enjoy another hundred years together on this earth, and to thank you deeply for what you have given us for the last 40."
"Students are, I think, in the long run never wrong about the quality of teachers," said Placher. "So I have to take the students' nickname for Hall—Yahweh—seriously. And he does have much in common with the Lord of the Hebrew Scriptures. He is, in the words of the first chapter of the book of the prophet Joel, gracious, merciful, and slow to anger."
Dr. Peebles was a member of the American Theological Association, the Society of Biblical Literature, and served as president of the Indiana Academy of Religion. He received a Ford Foundation Faculty Fellowship to conduct research at Yale University and later did research in Switzerland.
Funeral arrangements are pending.
Read this Wabash Magazine tribute to Dr. Peebles at the time of his retirement.