White Selected NCAC Vice President
by North Coast Athletic Conference • December 16, 2011

Share:
Wabash College President Dr. Patrick E. White has been elected to serve as the vice president of the North Coast Athletic Conference for the remainder of the 2011-12 academic year, effective December 15, 2011, it was announced by NCAC and Hiram College President Thomas V. Chema. In addition, White will assume the role as President of the NCAC in 2012-13 and 2014-15.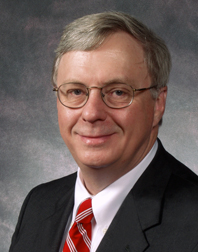 White replaces Wittenberg President Dr. Mark H. Erickson as the vice president of the NCAC as Erickson will be stepping down from his position at Wittenberg at the conclusion of the 2011-12 academic year. The NCAC president primary duty is to serve as chairperson for the presidents' council meetings.

White was elected as the 15th president of Wabash College, a private liberal arts college for men, in January of 2006. Prior to his presidency at Wabash, White served as the Vice President and Dean of Faculty at Saint Mary's College in Notre Dame, Indiana, from 2002 to 2006.

During his tenure at Wabash, Dr. White has led the college through a strategic planning process, completed a comprehensive academic program review and set annual giving records in each of the last two fiscal years. He also serves on the Board of Directors of the Montgomery County Economic Development Commission and is a member of the Board of Regents of the Indiana Academy for Science, Mathematics and Humanities.

In addition, White served on a panel at the Council of Independent College's Presidents Institute, titled "Raising Funds in the Declining Economy". He also sat on a panel at the American Men's Studies Association annual conference, discussing how all-male college's could teach all of higher education about educating and engaging men throughout their collegiate experience.

Founded in 1983, the North Coast Athletic Conference consists of 10 academically selective colleges and universities - Allegheny College, Denison University, DePauw University, Hiram College, Kenyon College, Oberlin College, Ohio Wesleyan University, Wabash College, Wittenberg University and the College of Wooster along with affiliate member Earlham College (field hockey). The NCAC sponsors 23 championship sports, 11 for men and 12 for women.