Chicago Holiday Luncheon
by Tom Runge • December 7, 2011

Share: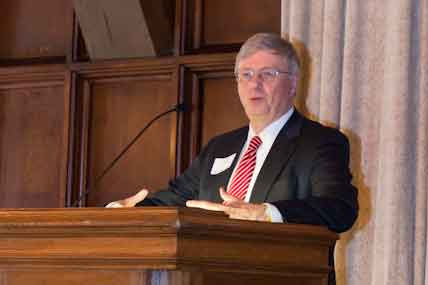 December 6, 2011. Alumni from the Chicagoland area joined with Chairman of the Board Steve Bowen '68, President Pat White, and Dean Joe Emmick '92 to celebrate the Holiday Season at the University Club in downtown Chicago.
Following lunch, President White updated the attendees on the great fall the College has enjoyed. Pat reinforced the all inclusive nature of liberal arts learning as he outlined student immersion trips to Ireland and France. He also noted the wonderful seasons enjoyed by our cross country and football teams.
President White also took a few moments to highlight the many contributions to Wabash made by Joe Emmick '92, Dean for College Advancement. Joe leaves Wabash at the end of the month to join the leadership team at Elmhurst College in nearby Elmhurst, IL.
Greg Jania '93, president of the Wabash Club of Chicago, served as the emcee. Trustee attendees included Bob Wedgeworth '59 and his wife C.K. Also attending from the College were Major Gifts Officer Steve Hoffman '85 and Admissions Counselor Tim Cheek '10.
Photos:
Top - President Pat White addresses the group
Bottom - The Michigan Room was a great venue for the luncheon