Wabash Defense Shuts Down Illinois College
by Howard W. Hewitt • November 19, 2011

Share:
C.J. Gum and the Wabash defense were the difference Saturday in Wabash's first-round NCAA playoff win over Illinois College, 38-20. The starting defense held the visiting Blueboys' offense, which entered the game averaging 41 a contest, to just six points. IC added two late touchdowns against Wabash substitutions.
Illinois College finished 9-2 while Wabash improved to 11-0. The Little Giants will face North Central (10-1) Saturday, Nov. 26. The Cardinals ousted the University of Dubuque Saturday, 59-13. The Little Giants will host North
Central Saturday. Kickoff is set for noon.
See photo albums here, here, here and here.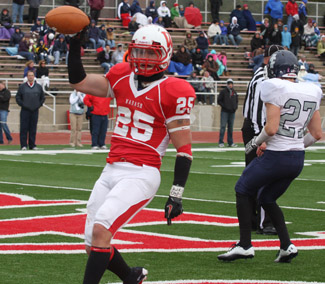 Illinois College's first foray into post-season play started well enough. After Tyler Holmes got Wabash on the board with a 4-yard run, the Blueboys responded with an Adam Fricke 2-yard catch from freshman quarterback Michael Bates, 7-6.
But after that initial drive the Wabash defense was again dominating. And after the game, No. 33 (or C.J. Gum) was still on the visitors' minds.
"Number 33 is obviously a big dude in there and he directs them," said IC freshman quarterback Michael Bates. "He has the play sheet on his wrist and he tells them what to do. He tells everybody what to do. Every tackle goes through him. We tried to get a little mis-direction stuff going with me and it just didn't go because of him. He's a heck of a football player. He was the key."
Little Giant Coach Erik Raeburn had to get plenty of satisfaction with his team's defensive performance. "I'm really proud of how well our starting defense played," he said. "We thought they were explosive on offense and when our starters were out there they had a hard time moving the football."
The Blueboys rushed for just 29 yards and picked up 193 passing. Their total offense of 222 yards was substantially below their 499 yard offensive average. "I think they did a lot of the things we saw on film, what we prepared for," Gum said. "We did have guys flying around."
IC Coach Campbell Garrett said the Wabash defense was "by far the fastest defense we've played all year. They were really fast. Number 33 is a heck of a football player and he's surrounded by some other great players who are extremely talented. They're big and you can look at the heights and weights but their speed is what is going to keep them progressing throughout the playoffs."
As the defense clamped down after IC's first drive, the offense came alive. Chase Belton and Tyler Holmes scored on runs of three and four yards to put Wabash up 21-6 mid-way through the second quarter. The Little Giants took complete control of the game just before halftime when Belton found Jonathan Horn for a 14-yard TD, 28-6.
Holmes led Wabash with 97 rushing yards while Vann Hunt added 90. Wabash ran the ball 62 times for 266 yards.
"You have to give credit to the line," Holmes said. "Without them we're not going to be able to do anything that we do. I thought today the line was sustaining their blocks long enough that we could do what we know we can do."
Belton had an efficient day passing with the run game clicking. The junior quarterback hit 11 of 19 passes for 135 yards and two touchdowns.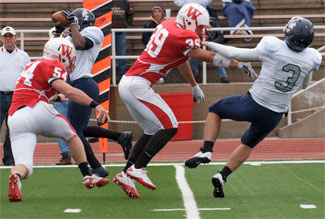 The Little Giants wrapped up their scoring in the third quarter starting with an Ian MacDougall 24-yard field goal. Then Belton found Wes Chamblee on a 16-yard scoring strike with 1:39 remaining in the third quarter, 38-6.
"The line blocked well and gave me enough time," Belton said. "I know when I hand it off to Vann and Tyler that they're going to make plays. And we handled the wind a lot better today."
Last week Wabash completed just two passes in windy conditions against DePauw.
Raeburn substituted liberally in the final quarter. The Blueboys added two late touchdowns, aided by a recovered on-side kick.
Cecil Brimmage scored on a 3-yard run, then following the kick recovery Bates hit Brock Thompson from 19 yards for the final score.
"I think we have learned as an entire program how to play in the playoffs now," Campbell said. "We now understand the expectations and the atmosphere and everything that goes along with it. I think that's critically important."
The Blueboys had an odd path to the playoffs. They finished 9-1 on Nov. 5 but in second place in their conference. They had to wait a week to learn they would compete again this year. They return a very young roster for next year.
"It was surreal really," said tight end Adam Fricke who caught the Blueboys' first score. "Two weeks ago we finished the season and didn't know if we were going to have the chance to play again. We had Senior Day at home and I thought I'd played my last game. Getting an opportunity to even be here, make the trip, get to be in on that play and score a touchdown … it took awhile for reality to set in. It was unlike anything I've ever experienced."
The experience continues for Wabash. North Central is a power running team. So for the second week in a row the Wabash defense will be tested by a team with a powerful offense that has scored more than 50 points in five games this year.