Bambrey Receives Spirit of the Monon Bell
• November 11, 2011

Share: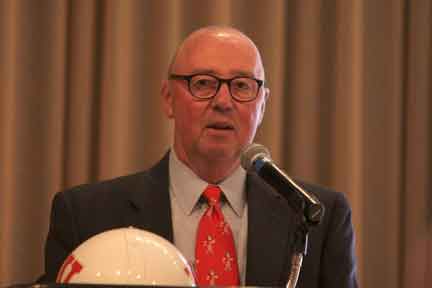 Long-time Dean of Students and Director of Athletics Tom Bambrey '68 was honored Thursday night at the 2011 Monon Bell Stag. The alumni of DePauw University presented Bambrey the Spirit of the Monon Bell Award.
Each year the Indianapolis alumni associations of Wabash and DePauw come together for a friendly night of old stories, good times, and laughter. Presidents Pat White and Brian Casey both spoke at the event — taking time to rib one another, but reminding all in attendance that the two rivals have much in common. Alumni, they said, are blessed to have a rivalry as old and respected as the Monon Bell rivalry.
Each year, alumni from DePauw select one Wabash alumnus to receive the Spirit of the Monon Bell Award. This year, Page Cotton, soccer coach and athletic director in a DePauw career spanning more than 40 years, presented Bambrey with the honor. The two campus leaders worked hard together to advance the Monon Bell Classic and provide a safe, festive environment for fans to cheer on their teams.
Bambrey retired in June from his post as Director of Athletics. He previously served as the College's Dean of Students.
Recently retired Head Basketball Coach Mac Petty presented DePauw alumnus Brad Stevens with the other Spirit of the Monon Bell Award. Stevens, head coach at Butler University, has guided the Bulldogs to consecutive trips to the NCAA Division I Championship game.
Nearly 300 alumni from both schools gathered for the event. And in a new tradition, alumni made donations to honor each Spirit of the Monon Bell Award winner. Bambrey selected the Montgomery County Free Clinic as his charity, while Stevens selected Gleaners Food Bank. Wabash alumni donated nearly $3,000 to the new medical clinic, which will be named in honor of Dr. Mary Ludwig.