2011 Wabash Day - Minneapolis
by Charley Crowley '70 • October 21, 2011

Share: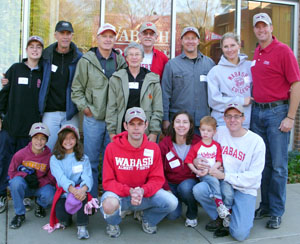 On Saturday morning, October 15, the Twin Cities of Minnesota Wabash Service Day had seven Wabash men participating, with an addition of eight relatives and friends.
This year's service project was performed at the Liberty Plaza affordable housing development in St. Paul, MN. Liberty Plaza is a 173 unit, 100% Section 8 property owned by the 501 c3 non-profit Twin Cities Housing Development Corporation. In addition to US born residents, 11 other countries are represented in the resident population. In this property of approximately 500 residents, 265 are children. The average household has three people, and the average annual income is $14,343.
A wide variety of services are provided at the Liberty Plaza Resource Center to help families stabilize their lives. These include, English as a Second Language, Income Tax and Earned Income Credit Forms preparation, job seeking and keeping assistance, after school and summer programming for children in grades K-5 and 6-9, two computer labs and a host of other services. The service project at Liberty Plaza had several parts centering around the Resource Center needs. See the task list below:
1.) In Plus Time room (gr. K-5) take everything out of cupboards, clean out cupboards and organize contents of cupboards.
2.) Organize and clean up storage closet in Community Room.
3.) Wipe down snack cupboards in Community Room. Throw away all open containers.
4.) Organize books on book shelves in Plus Time room by age (the white book shelves labeled K, 1st, 2nd, etc.).
5.) Take out contents from cabinets in Youth Voice room (gr. 6-9) and wipe down cabinets. Replace and organize items that were in cabinets.
A little hot coffee, a little cold juice, treats and camaraderie made the project move along quickly while helping serve a low income community. A job well done.
The 15 participants included: Charlie Crowley '70 and his wife Mary; Kyle Falconbury '96, with his wife Julie and son Ezra; Justin Killian '03; Rich Most '86; Bob Neal '60 and his wife Barb; Adam Weliver '93 and his girlfriend Chris; and John Wheeler '70 with three of his children – Claire, Sam, and Jack. Yes, that is five decades of Wabash men coming together for WABASH Day.