2011 Wabash Day - Indy, Villages
by Kevin Benefiel '81 • October 21, 2011

Share: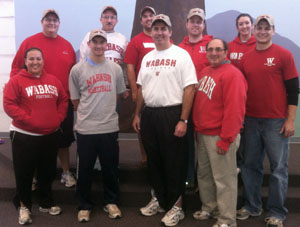 Wabash men and women worked together successfully Saturday afternoon to paint interior rooms at The Villages in Indianapolis. The Villages provides services such as, Foster Care, Adoption, quality Child Care and Early Childhood Development Services at this Indianapolis location. The state-of-the-art Center also provides Child Care Services to children six weeks old to kindergarten age.
This is the seventh year in a row that we have completed various projects at The Villages including painting interior walls, spreading mulch throughout the playground area and painting the playground equipment. Denise Ferrell, onsite Director at The Villages stated that our work over the last seven years has saved The Villages thousands of dollars and that these savings will help those that are less fortunate to continue to utilize the child care services that The Villages are able to offer.
Pictured Front Row (left to right): Courtney Hooten , Grant Benefiel, Kevin Benefiel'81, Jon Pactor '71 and Ty Benefiel '08. Back Row (left to right): Mark Cross '08, Greg McGowan '81, Robert Boarman '08, Jesse James '08 and Leticia Snoddy.