2011 Wabash Day - Madison, Wi.
by Matt Ripley '06 • October 18, 2011

Share: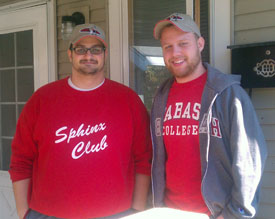 Matthew Ripley ('06) and Nick Marzotto ('10) did a day of work volunteering for Porchlight of Madison,Wisconsin. Porchlight is a program that provides emergency shelter, food, employment services, counseling and both temporary and long term housing for the homeless. The Wabash group cleaned a three bedroom unit to prepare it for two new temporary tenets. We are happy to report that thanks to our hard work two new people in need will be able to move into temporary housing two weeks ahead of schedule. Which as you can imagine in a Madison fall is pretty imperative. The folks at Porchlight were great, and Nick and I, would like to make this a regular part of living TALL in Wisconsin.