2011 Wabash Day - Greenfield, In.
by Kyle McClammer '08 • October 17, 2011

Share: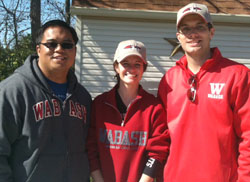 We were small but mighty at the Greenfield, Indiana, Wabash Day. In attendance were Charlie Lopez '05, Kyle McClammer '08, and Sara Benson, soon-to-be Wabash wife. We ran the concession stand at Edelweiss Horse Therapy Farm's first annual horse show and fundraiser. It was a great event.