2011 Wabash Day - Westfield
by Rob Paugh '92 • October 17, 2011

Share:
We had about 20 volunteers this year for Westfield Wabash Day. Volunteers helped the Westfield Parks Department by clearing debris and trash along the popular Monon Trail, North of 161st Street. We started the brisk morning with coffee and donuts and quickly got to work filling about 8-10 trailer loads of rubbish about 2-3 feet on either side of the trail.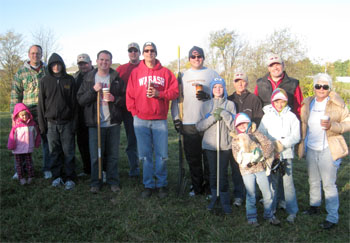 See a photo album from the Westfield project
here
. Photos by Kelly Sullivan '14
Volunteers for this years' event included.
Rob Paugh '92
Christine Paugh – wife of Rob
Zoe Paugh – daughter of Rob
Kaelie Paugh – daughter of Rob
Jenny Parker – family friend of Rob
Nathan Storey – '05
Adam Layton – '05
Dan Storey – '08
Jeff Dickison '85
Greg Teague '88
Emma Teague – daughter of Greg
Joe Samreta '95
Madison Samreta – daughter of Joe
Mike Crowder '91
Ryan Pietras
Mr. Pietras
Melody Jones – Westfield Parks Director
Chris McConnel – Maintence Supervisor WPD
Scott Shepard – Maintence WPD