Healthcare Economist to Give Rogge Lecture
by Jim Amidon • October 6, 2011

Share:
One of the nation's leading experts on the economics of healthcare in the United States will give the 2011 Benjamin Rogge Memorial Lecture at Wabash College. Dr. Mark V. Pauly will speak Tuesday, October 11 at 8:00 p.m.
Dr. Pauly's speech, "Solving Health Care's Problems through Aggressive Neutrality, is free and open to the public. Dr. Pauly will also give a lunch talk at noon Tuesday entitled "What Kind of Medicare Can We Save." Both speeches will be presented in Baxter Hall's Rogge Lecture Room.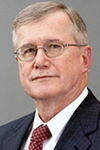 Dr. Pauly is the Bendheim Professor in the Department of Health Care Management, a professor of insurance and risk management, and a professor of business and public policy at the Wharton School; professor of economics at the University of Pennsylvania; and a member of the Working Group on Health Care Policy.
Pauly received his undergraduate degree from Xavier University, his master's degree from the University of Delaware, and his Ph.D. the University of Virginia.
In addition to his professorship at Pennsylvania, Dr. Pauly is a consultant for the U.S Department of Health and Human Services, the American Enterprise Institute, and Merck, Inc. He is the author of the book Health Reform Without Side Effects: Making Markets Work for Individual Health Insurance.
He has been honored for his research and writing, and has received the Spencer Kimball Article Award from the Journal of Insurance Regulation, National Institute of Health Care Management Foundation's Research Award, and the John M. Eisenberg Excellence in Mentorship Award
He serves as Co-Editor-in-Chief of the International Journal of Health Care Finance and Economics and is the Advisory Editor of the Journal of Risk and Uncertainty.