Community Fair Helps Students Acclimate
by Howard Hewitt • August 30, 2011

Share:
The sixth-annual Wabash Community Fair drew a big student crowd Tuesday to sample products and register for drawings. The Schroeder Career Services office sponsors the fair to introduce Wabash men to opportunities outside campus in Montgomery County.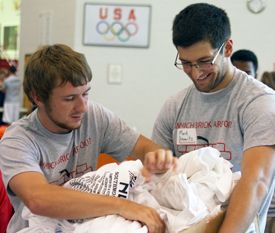 Each year two Career Services interns organize the event.
"We had a lot of students," Mark Osnowitz '12 said. He helped organize the fair with Nathanal Borden '13. "We had two big rushes with an athletics meeting (ending at noon) and all the other students coming right at the beginning. We gave away a lot of prizes. We just hope students got to see what the Crawfordsville community has to offer."
Each year the student organizers are given a template to plan the event but the details are left up to each year's leaders. "We get the basic game plan then we're left to fill in all the blanks ourselves," Osnowitz said. "It's organizing and making sure we have everything written down. We keep track of who has given us sponsorship money. It's a lot to keep track of but that was biggest hurdle initially, just getting the process started.
Merchants expressed appreciation for the opportunity to get their businesses and services in front of students. The crowd is always freshman dominated as the new Wabash men learn their way around town. Plenty of upper classmen make the Knowling Fieldhouse rounds looking for bargains and new businesses.
In photo: Borden and Osnowitz pass out participant t-shirts
More News
---
---
Photo Galleries

2011 Community Fair