Wabash Football 19th in Preseason Poll
by Brent Harris • August 6, 2011

Share:
Wabash football returned to the national rankings on Friday when the 2011 D3football.com preseason poll was released. The Little Giants, who were in and out of the top-25 throughout last season, are 19th in this year's preseason rankings.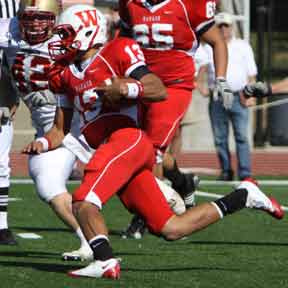 Wabash received a total of 175 points. Wittenberg, picked to win the North Coast Athletic Conference by the league's coaches, is one spot back at 20th with 165 points. Defending national champion Wisconsin-Whitewater tops the poll, receiving 16 first place votes and a total of 619 points. Perenial national power Mount Union ranks second with 6 first place votes and 606 points.
The Little Giants and Wittenberg are the only NCAC teams ranked in the preseason top-25 poll. Two other Indiana schools — Trine (22nd) and Franklin (24th) — also made the top-25. DePauw received 5 points among a list of 24 schools that garnered votes but did not receive enough to make the top-25 rankings.

Wabash returns 17 starters from a team that finished 8-2 last season with losses to Wittenberg and Washington-St. Louis. The game between Wabash and Wittenberg marked the only time the Little Giants were ranked in the top-25 and played another nationally-ranked team. The Tigers, ranked ninth at the time, defeated Wabash (25th) 34-17. One week later, the Little Giants knocked off 21st-ranked DePauw 47-0 in the annual Monon Bell Classic.
The Little Giants open their 2011 season on September 10 at the College of Wooster.

D3football.com 2011 Preseason Football Poll