Community Friends Seek Host Families
by Jim Amidon • July 25, 2011

Share:
For as long as Wabash College has enrolled students from other countries, there have been families from Montgomery County who have reached out to participate in the Community Friends Program.
The program is designed to provide "host families" for Wabash's international students. In the coming year, over 60 students from all over the world will be enrolled at the College.
Becoming a member of the Community Friends is relatively easy. Host families provide opportunities for international students to experience American culture and understand local customs. Host families invite their students to Sunday dinners; take them to ball games, car shows, and county fairs; and, generally, "adopt" them into their families during their four years on campus.
In turn, the students share their own customs and traditions with their host families.
Host families are not required to make any kind of financial investment in their students.
Linda and Brad Weaver have hosted several international students over the years, and have found the program to be mutually beneficial.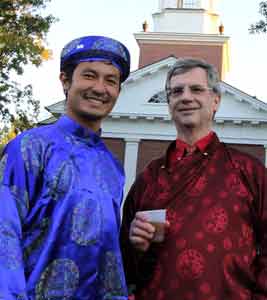 "It has been very rewarding for our family to share our American cultures and traditions with our Wabash student host sons, and to learn about their families and countries," Linda Weaver said. "We enjoy supporting the students by watching them play sports on campus, sing in the Glee Club, perform in plays, or look at their art exhibits."
Getting involved is easy. Interested families can contact local coordinator Gerry Turner by email (
gerryt36@sbcglobal.net
) or by phoning 765-361-1442. Or, you can contact David Clapp, who directs Wabash's International Office, by email (
clappd@wabash.edu
) or by calling 765-361-6078.
Wabash will have 21 new international students this fall, bringing the total number to 63 students. Forty-seven will come from China and most of them come from major cities with populations over one million people. Adjusting to college life in a small town is made easier when host families welcome them.
In recent years, families who have adopted children from foreign countries have been able to learn more about the culture of their children through the Community Friends Program.
"People from across the globe are more mobile than ever before," Clapp said. "Students who attend college outside their home countries are increasing all the time, and those who attend Wabash offer all of us unique opportunities for cross-cultural learning and for building personal relationships. The rewards are great as you learn from each other and expand one another's understanding."
And as Weaver pointed out, the relationships last far beyond the four years the students stay in Crawfordsville.
"It is always a pleasure to meet their families at commencement," Linda said. "Our daughter has traveled to Bolivia to stay with a Wabash student and his family, and we have visited other students after graduation in New York City, Washington DC, and Hollywood. They are always eager to share their experiences with us. Facebook also makes it very easy to keep in touch."
International students arrive at Wabash the second week of August.
In the photo: Huan Nguyen and David Clapp enjoy a cup of cider at last September's Mid-Autumn Festival.