Scholarship Fund for Fallen Little Giant
• July 18, 2011

Share:
Matthew Debono entered Wabash in the fall of 1984 and immediately made an impact — on his brothers in Kappa Sigma and his teammates on the cross country team.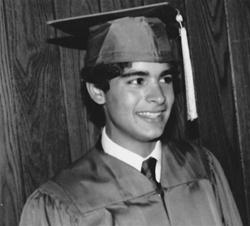 Shortly before Thanksgiving that year, Debono was diagnosed with severe aplastic anemia, which forced him to withdraw from the College. He passed away 18 months later.
At his request, Matt's family started a scholarship fund in his memory. Now, 25 years after it was established, new efforts are being made to grow the scholarship fund to $60,000 or more.
The family is now partnering with Aplastic Anemia and MDS International Foundation.
"We are now in the process of memorializing Matthew after 25 years and are hosting a fundraiser to endow the scholarship for years to come," said Matt's sister, Claudine Debono Holloway. "Though he was only there for a few months, he was very proud of his time at Wabash — running on the cross country team and being a Kappa Sigma brother. "
More information about Matt, the scholarship fund, and Aplastic Anemia can be found on the FirstGiving website.