Einterz 3rd, Waterman 6th at Nationals
by Brent Harris • May 28, 2011

Share: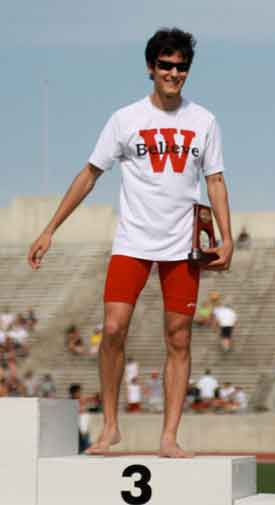 Senior Seth Einterz saved the best race of his career for his last, nearly winning the 5,000 meters at the 2011 NCAA Division III Outdoor Track and Field Championships. Einterz finished third overall to earn All-America honors, joining teammate Jake Waterman, who finished sixth in the 800 meters.
View photos from the final day of competition
here
.
Einterz stayed with the lead pack early, eventually taking the front spot late in the race. He finished with a time of 14:43.21, two seconds off the winning time.
"Everyone went out really slow, " Einterz said. "The 5k is a strategy race. I knew it was going to be a slow race because it was hot and a lot of the guys in the race were doubling. I just tucked in with the lead pack and just held on. It wasn't a fast time. A lot of those guys in the field have gone a lot faster. I was just smarter and got into an All-American spot."
"Seth believed in himself and in our coaching staff in as far as listening to how a race develops and what to do to put himself in position to have a great race," Assistant Coach Roger Busch said. "He was one of the last guys in the race and he came out third. It was a tremendous effort."
"Seth was loose all week," Head Coach Clyde Morgan said. "He went after this race and kept grinding and grinding until the finish. What a way to end your career, to finish third at nationals."
Waterman was also in front of the pack for most of the 800 before a small group of runners made a move late in the race. He finished with a time of 1:53.25 to add outdoor All-America honors to his career totals. He took indoor All-America awards in 2010 and 2011 in the indoor 800.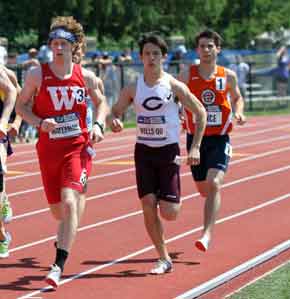 "Jake's not happy with his effort today, but I'm proud of him," Morgan said. "He said he surged one too many times early in the race, He's just a sophomore running in his first outdoor national meet, but he was able to recognize what he did. It just wasn't his time yet, but there is no doubt in my mind it will happen."
"I went out fast until about 300 meters," Waterman said. "Then I went a little slower than I needed to. At that point I kind of got lost in traffic and couldn't really do what I wanted to.
"It's good to get the All-American titles, but I must say I'm a bit disappointed because I felt like I was in contention for the win. I think in a week or two it will sink in, but right now I just don't feel as happy about it as I should."
Eintez and Waterman join Kevin McCarthy, who finished fifth in the 3000-meter steeplechase Friday night, as 2011 Outdoor Track and Field All-Americans. The total equals the best effort by the Little Giants at any track meet, tying the three All-America awards during the 2010 indoor championship meet.
Game Stats