Different Paths Led Quartet to Nationals
by Brent Harris • May 25, 2011

Share:
Talk to any of the four Wabash athletes who will compete at this week's NCAA Division III Outdoor Track and Field Championship meet, and you'll hear four different stories.
Senior Seth Einterz had no plans to necessarily qualify for the nationals in his final regular season race. Fellow senior Wes Chamblee came back from a devastating knee injury in the fall to reach the qualifying mark in his first race. Junior Kevin McCarthy qualified in three different events, choosing to compete for a national title in the steeplechase. Sophomore Jake Waterman will compete at the outdoor meet for the first time, but has already earned indoor All-American awards twice in the 800-meter run.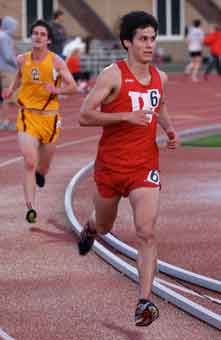 Einterz
(left)
will compete in the 5000-meter run on Saturday. Chamblee will open the meet on Thursday by racing in the preliminary heats of the 400-meter hurdles. Waterman will run in the 800-meter run in Friday's prelims. McCarthy races in Saturday's finals.
"I did not want to race last weekend at North Central," Einterz said "I really had no intention of qualifying for nationals. My only goal was to post a fast time in what I thought would be the final race of my career. The definition of great coaching is someone who can coax great efforts out of athletes when they're not ready to do their best. I really surprised myself with my time and the effort."
"Seth is just a fighter," Wabash Head Coach Clyde Morgan said. "I told him on the way to North Central that he would qualify for nationals. He is the next-to-last runner to get into the meet, so our approach will be to just have fun and try and run fast just like the North Central meet. There's no pressure to win, and sometimes that's when the best performances come out of an athlete. He has every opportunity to be an All-American."
Chamblee did not compete in the hurdles during the outdoor track season until the final weeks. Heading into the University of Indianapolis Invitational, the senior convinced Morgan to put him in the race. Morgan agreed, but only if Chamblee (below right) would compete in the slowest heat from an outside lane to provide as much safety as possible. Overcoming the injury, bad weather, and a slow race, Chamblee finished with a qualifying time of 53.11.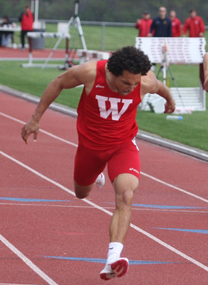 "Wes has done everything the coaches, the trainers, and the doctors have asked him to do," Morgan said. "He's also been very patient. He put together the plan to get back to this level. I had that same injury in college and ran the same race. I couldn't come back that fast and get back to that level of excellence."
"My goal from the start of the season has been to qualify for nationals," Chamblee said. "I was confident in that first meet that I could run a qualifying time. I knew that my speed was close to the same as last season when I was training. That gave me the confidence to go out at the University of Indianapolis meet to try and qualify.
"I want to make it to the finals on Saturday. Whatever happens from there I'll be fine with the results."
"To me, Wes is already successful," Morgan added. "He's done something that a lot of other people couldn't do. I'm just going to be a big cheerleader this week for him. I'm going to tell him to run fast and free and have fun. Anything he does this week is bonus."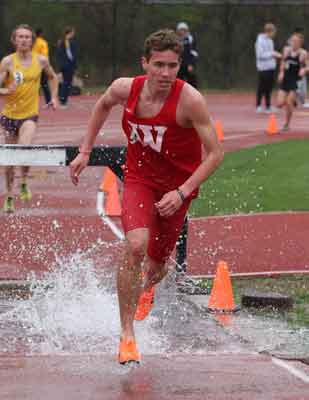 McCarthy
(left)
picked up the steeplechase as a new event this season after finishing fifth last season in the 1500-meter run at nationals to earn All-American honors. He qualified for the 1500 once again this season, and had a chance to compete in the 800 after posting the eighth-quickest time this year. His three qualifying efforts earned him the US Track and Field and Cross Country Coaches Association Men's Great Lakes Region Runner of the Year Ward. However, after posting an automatic qualifying time of 8:58.66 — the third-fastest time in Division III this season —the chance to compete for the steeplechase national championship has him focused on that race.
"My goal is to lay it on the line'" McCarthy said. "I feel like I have a great chance to win the event. I plan to put everything out there. Last year in the indoor 800 and the outdoor 1500 I was one of the last guys to make the race. Everything is fair game once the field is set. It also gives me some confidence. I feel like I can outsprint those guys."
"Kevin needs to be patient on Saturday," said Morgan, who will receive the USTFCCCA Men's Great Lakes Region Head Coach of the Year Award on Wednesday. "He is confident in his abilities. In his last steeplechase he was out running by himself. He needs to be patient with other runners around him in this upcoming race. He'll have other guys going over the hurdles and through the water pit. I think he's the most talented 3000-meter runner in the race. It all comes down to the barriers. If he's patient, he'll be fine."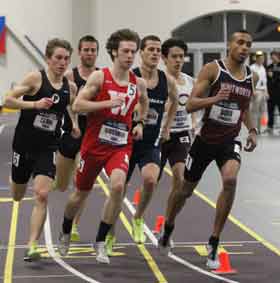 Waterman

(left)

has the sixth-quickest time heading into the weekend in the 800, but believes he can draw upon his past success from two appearances at the indoor nationals. He finished seventh as a freshman in the indoor race, and then had an opportunity to win the indoor title back in March. Amherst junior Ben Scheetz passed Waterman in the final stretch to take the individual championship.

"Having lost the indoor 800-meter championship by six-hundredths of a second and tasting how close I was to actually winning, it's evident I can win. It's possible I'll be competing against same people at this meet that I raced against at the indoor nationals. I know what I'm capable of. I get to try and realize my potential."

"Jake has worked very hard since the indoor nationals," Morgan said. "At first I thought losing in the final meters of the indoor race was heartbreaking. Now I realize it was a blessing. It's made Jake hungry for success and made work harder in practice. I won't say much to Waterman before his race. All of his motivation for this outdoor championship meet started the second he crossed the finish line at the indoor nationals."




For more information see: