Little Giants Add NCAA Qualifiers
by Brent Harris • May 16, 2011

Share:
Senior Wes Chamblee became the latest member of the Wabash track and field team to qualify for the 2011 NCAA DIII Outdoor Championship Meet, posting a provisional time Sunday evening in the 400-meter hurdles. The 1600-meter relay team also reached the provisional qualifying mark over the weekend, while Kevin McCarthy improved his 1500-meter run time with a record-setting performance in Indianapolis.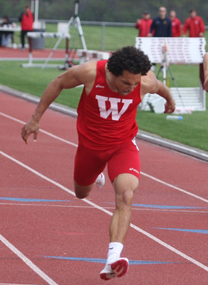 Chamblee took second place in the 400 hurdles at the Indy Twilight Qualifier on the IUPUI campus Sunday evening. His time of 53.11 was well ahead of the provisional qualifying mark of 54.30 and is currently the 11th-fastest time this year in that event. Chamblee was competing in the hurdles for the first time this season. He suffered a severe knee injury during the opening game of the football season in the fall.
Chamblee (left) joined teammates John Haley, Jake Waterman, and Sean Hildebrand Friday at the Louisville Cardinal Twilight Meet to reach the provisional qualifying mark in the 1600-meter relay. The quartet finished the race in third place with a time of 3:15.60. The provisional qualifying mark is 3:16.40. The Wabash time places the Little Giants 17th on the latest national qualification list.
McCarthy shattered his own school record in the 1500-meter run on Sunday, crossing the finish line with a time of 3:50.68. His previous mark of 3:54.50, set earlier this year at the Rose-Hulman Invitational. McCarthy had already qualified for the national championship meet in the 3000-meter steeplechase and in the 800-meter run, but will now have an opportunity to compete in three events with his qualifying time from Sunday. His 1500-meter time is currently sixth-fastest among Division III men this season.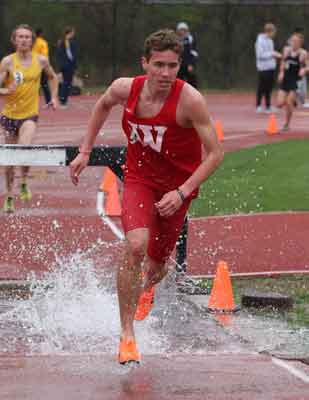 Waterman, Matt Knox, and Trevor Young have already qualified for the championship. Waterman has the eighth-fastest 800-meter time of the season, posting a time of 1:51.16. McCarthy (right) is ninth-fastest in the nation in the 800 with a time of 1:51.36. Knox and Young both cleared the NCAA provisional qualifying height of 4.75 meters (15 feet, 7 inches) earlier this year. Young has the best mark of the season, clearing 4.80 meters (15 feet, 9 inches), while Knox equalled the provisional mark at the Rose-Hulman meet.
Wabash will have one more week to try and improve their times before learning who will be eligible to compete at nationals. The NCAA Championship meet will take place May 26-28 at Ohio Wesleyan University.